April Showers and Turquoise Powers…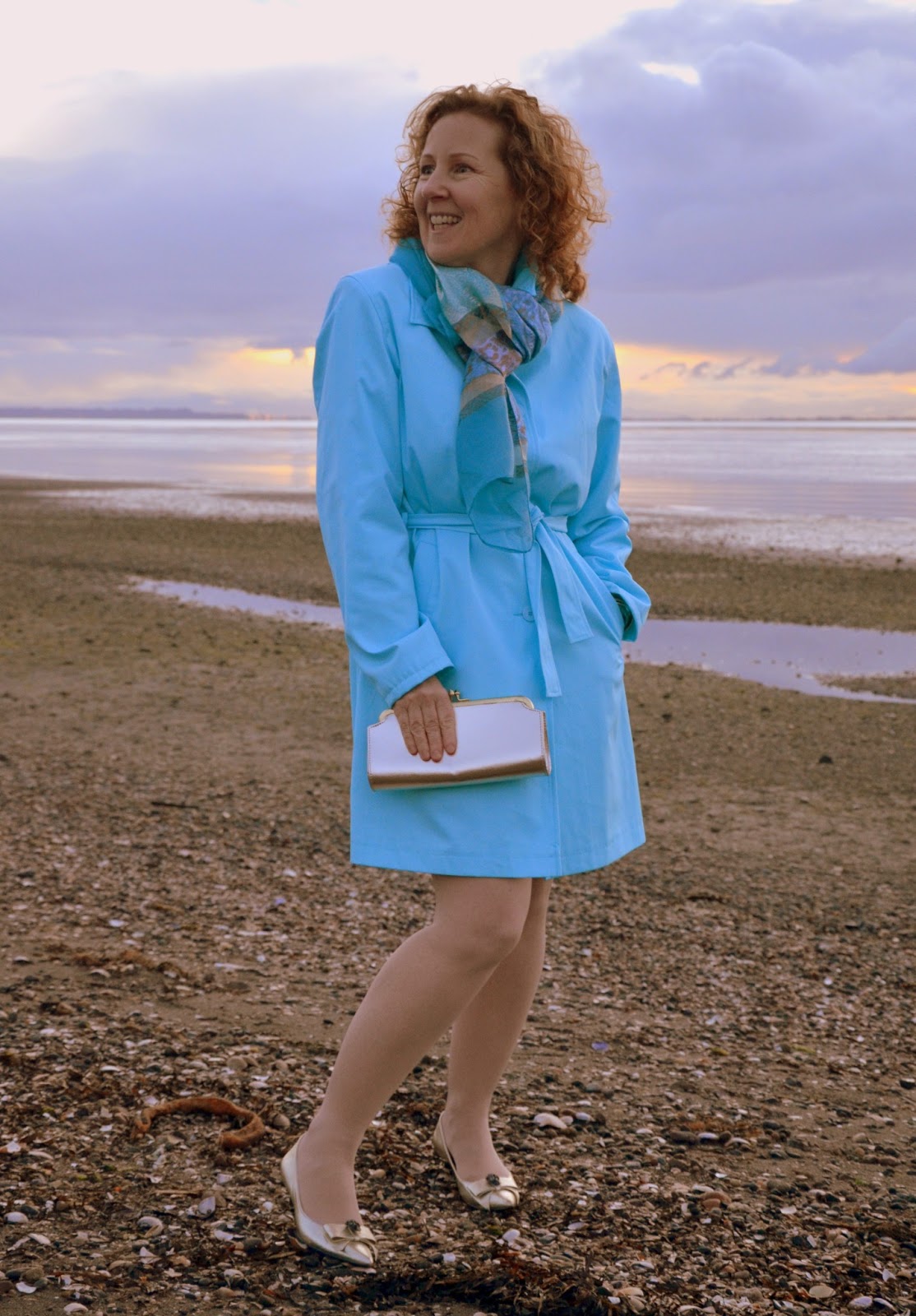 {My DYT Type One Style   Turquoise Raincoat  Jessica, thrifted   
Blue Navy Skirt, Olive & Oak, via Winners, and last seen here
Winter White Knit Top  Jones New York, Signature via Winners 
Shiny Gold Shoes and Clutch, thrifted and last seen here
Pretty Turquoise and Gold Scarf  thrifted}
Hi everyone!  Happy Monday.  It was a soggy week here in Vancouver.  I live in a rain forest minus the forest.  Despite all the rain, we managed to snap these outfit photos with nary a raindrop.  And to put a positive spin on things, April showers will bring May flowers.The highlight of my weekend was seeing the musical production of Billy Elliott.   It was an endearing show, and the young talent was really to be commended.  The mister and I went to an afternoon matinee, and I observed that the standard of dress was, for the most part, pretty casual.  I would love to see more people dressing up for the theater.    I almost wore my pretty sequin skirt, but decided it might be unsuitable for sitting in for a long period of time. I didn't want to leave a trail of sequins behind.  The knit top and skirt I chose was extremely comfortable, yet I still felt it was at least a little special.  Tell me please, do you like to dress up for the theater or for dinner?  After the show, we had a very nice dinner out at a local restaurant, Chambar, Belgian, and known for their mussels, pomme frites, and large selection of beers.  Oh yum!  Between Belgian waffles, french fries and beer…well let's just say I could very happily immerse myself in all things Belgian.  While at dinner, I found myself taking a little trip down memory lane.  There were a number of children at Billy Elliott, and I distinctly remember the very first live play that I saw. It was Jesus Christ Superstar.  My Nana took me and my brother to a matinee at The Stanley Theatre in Vancouver.  Prior to the play, we stopped at a local bakery for still warm gingerbread men, and from the moment the play began, I was mesmerized.  The second play I remember seeing was Anne of Green Gables.  It was at the Queen Elizabeth Theater, where we were today.  It was a school trip, and we were in the very last row of seats in the upper balcony.  You could barely make out Anne on the stage, but it was magical just the same.  Oh yes, those two experiences are etched in my memory bank, and I remember participating in many a school play with great enthusiasm, probably a result of that early exposure to the arts.  By high school, my attentions were elsewhere…acting as a profession did not seem a possibility.  Had someone told me back in the seventies, that Vancouver would be the successful Hollywood North that it is now, I may have reconsidered my path.  Vancouver has a very active film and television industry today.
Okay, enough chat…in these photos I am wearing the outfit that I wore to see Billy Elliott.  As I mentioned, we get more than our fair share of rain around here, and this turquoise raincoat has the power to brighten up the gloomiest of days.  I  did take a larger handbag with me to the city; this little clutch is fine for kleenex and a tube of lippie, but when I'm heading downtown for the day, I go prepared.  A bottle of water, an umbrella, a snack, not to mention the usual necessities, make a larger handbag a necessity.
Thank you to everyone that took the time to read my interview with Franziska, at Franish: Behind the Blog.  It was really touching to read your very kind comments!  Thank you!
Linking up with:
Patti of Not Dead Yet Style for Visible Monday.
Shana of Colorblind for Thrifters Anonymous