PROJECT SEWN : : SIGNATURE STYLE :: SIMPLICITY 2256 : : SIMPLICITY 1873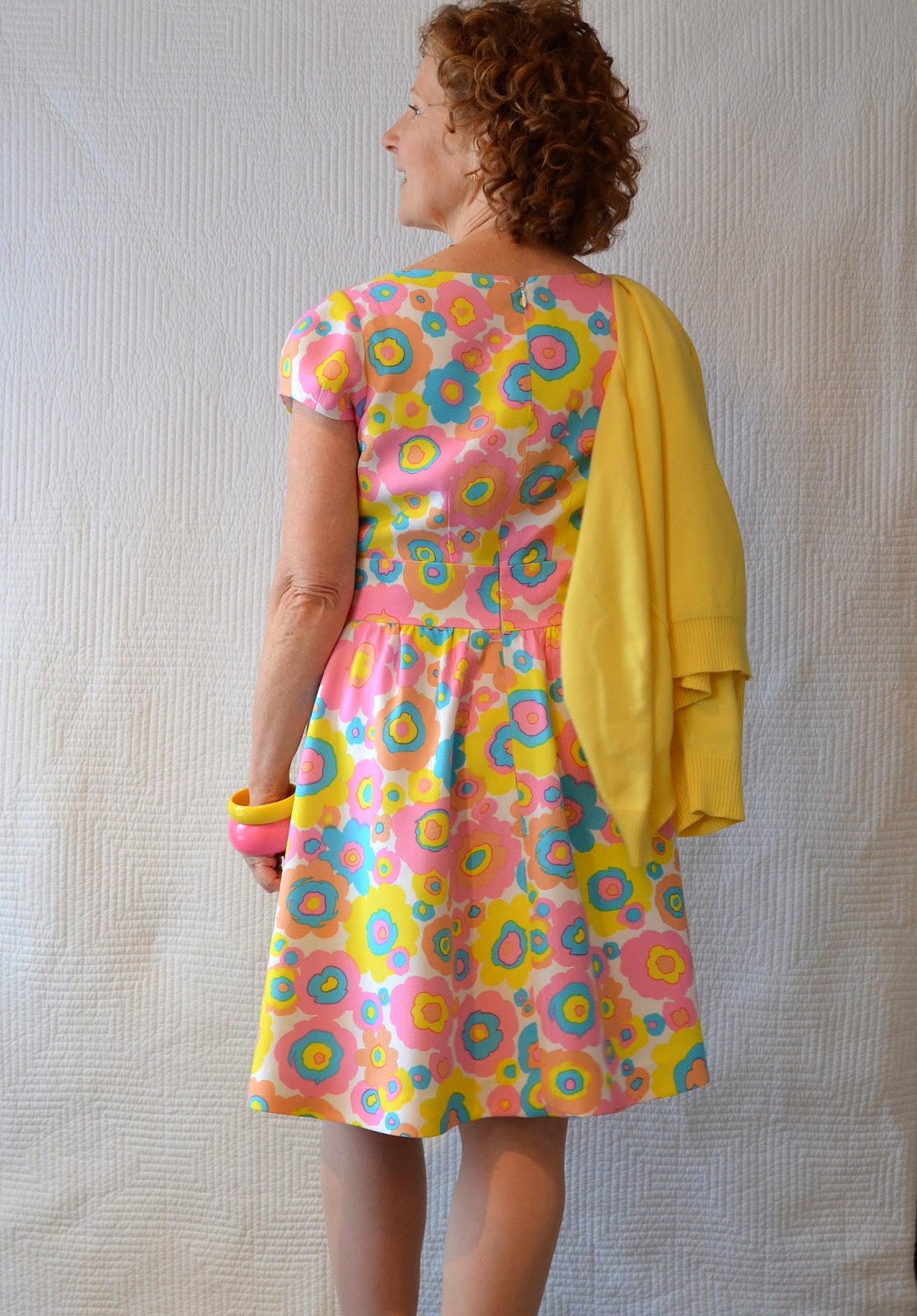 This is it folks.  The final outfit for this season's Project Sewn.  It's Signature Style week, and I'm really looking forward to seeing what the designers spin out for us this challenge.  And me? Typically, my signature style incorporates a liberal use of colour and/or pattern.  I like to give classic pieces a bit of whimsy and fun, with unexpected colour combinations, and/or a variety of prints.  Polka dot and gingham are perennial favourites of mine.  Brenda Kinsel's Fashion Makeover and Dressing Your Truth gave me a style boost years ago, and I continue to learn tips daily from my favourite personal style bloggers.  Today I chose a fun graphic flower print together with a crisp white cotton twill.  I love the dress fabric's bright tints.  It gives a classic silhouette a dash of the whimsy that I love.
When I was reviewing my If The Shoe Fits post, I thought how cute it would be to have a little white jacket as a go-with.  That's how this outfit got rolling.  I was barely a day into the project when I saw
It
. There it was, my half finished jacket, lazing on Madeleine…she's my Uniquely You dress form…and all l I could see was a blinding blob of white.  Whoops!  Did I goof?  Because last time I checked the top of my blog, I read the words
A Colourful Canvas
, and, hallo, is this not my moment to showcase my signature style?  Well, here's the thing.  Yes, I lurve me all kinds of colour, and dotties, and mixing up prints; but I also love balance, and I think that the white cotton twill jacket is the perfect counterpoint to the pop-art confection beneath it. 
The jacket pattern is the same pattern I used for my pink paisley jacket, Simplicity 2256.  I could tell you that I am intentionally choosing to demonstrate the versatility of the pattern, but the truth is…I was just eager to sew this pattern up again.  This time round, I made the shorter version, and I'm very happy with it.  I omitted the lapel, and used a combination of bemberg and cotton broadcoth for lining.  Adding a fun lining is usually a signature style option for me, but sorry…no can do that with a white jacket.  One thing I found when sewing this piece is that plain, light coloured fabrics leave no room for error.  Everything, and I mean everything, shows. 
Now…
my dress says Sue all over
.  I love the bright tints and the random flower pattern.   This dress is a mash up of two patterns.  The bodice and sleeves are Simplicity's Cynthia Rowley  Pattern 1873, and the bottom half is the 
New Look pattern  6799 from last week's 
dress.   I had very limited fabric, and I had to resort to blending the two patterns.  Even so, I couldn't make the short sleeved version I preferred, instead settling for cap sleeves; an irony considering I only recently told my friend Jan at Fort Smith Stylista that cap sleeves are a no-go for me.  I'm actually growing quite fond of them, but Jan, what do you think?    These cap sleeves have five pleats in each sleeve, ten if you count the lining.  And, additionally,  I had to hand sew two more tiny pleats at the bottom of each sleeve to get them to fit right.  I don't blame the pattern though.  I was working from a size 14 pattern…too large for me…but it was the
only
one left in the store.  I admit, altering the bodice was a tad frustrating, and, although the end result turned out fine, I might just have to track down a right-sized pattern before sewing it again.
Whew! This was a busy week…
sew
, now what?  Well, perhaps a switch from mad sewing to 
Mad Men
 sewing? 
Mad Men Challenge 3
  sew-along is about to begin, and I have it on good authority that Peggy is my Mad Men match!  I don't actually watch the show, but I am familiar with the fashion of the era portrayed.  But!  I'm getting ahead of myself.  For the moment, I am going to catch my breath, pet my cats, and take a look at what gaps there might be in my spring and summer wardrobe, and…well,  I already have an idea for a handbag, and…  
Won't you please follow me on…