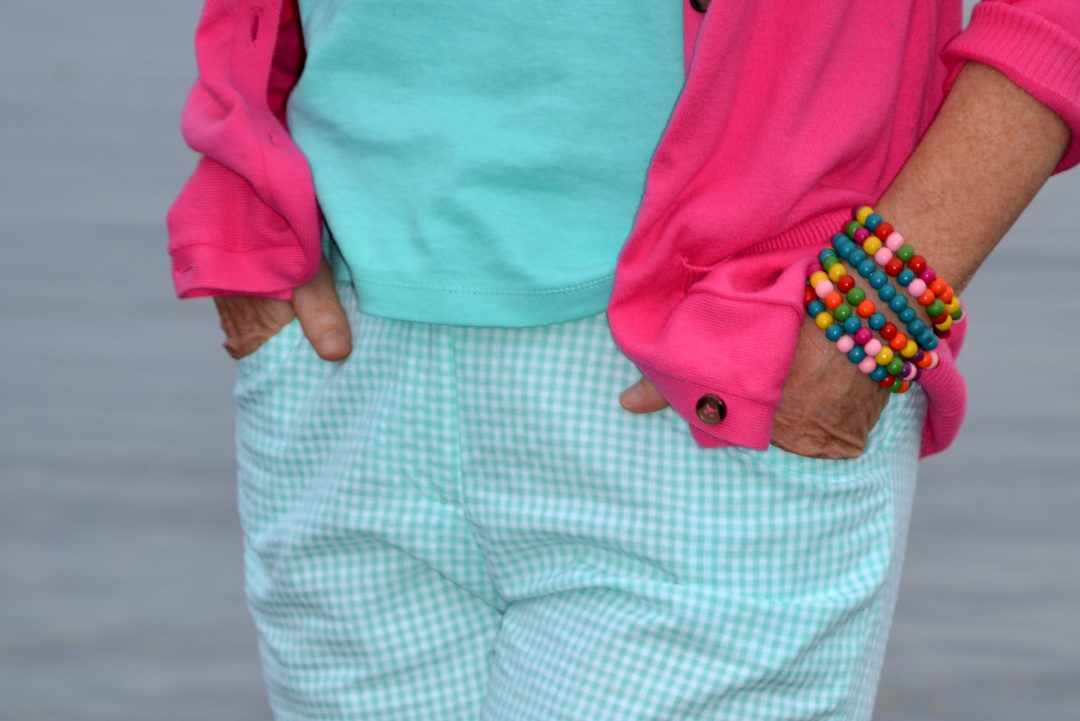 SUMMER : : SIMPLICITY 1783
August is The Sewcialists Tribute Month. An opportunity to pay homage to a sewing blogger that inspires. It was my intention to watch from the sidelines on this one. You ALL inspire me…tremendously. You might be a sewer, or a forty plus personal style blogger. You might be a foodie, a wordsmith, an artist. You might work your magic in the garden or your home. Whatever your medium, you inspire with your creativity. Yep, I didn't want to stress about who to choose, so I decided to just buckle down and sew a couple of projects that have been waiting in the wings. Like these shorts. Summer is half over after all. It was actually pretty quick sewing, these lightweight summer shorts, Simplicity 1783, and a self drafted t-shirt. So, why did I wait until August? Well, I really wanted to add welt pockets to my shorts. Let me re-phrase that. I really wanted welt pockets on my shorts, but I really didn't want to sew them. Let's be real. Raise your hand if you actually utilize those cute little welt pockets on your backside? Thought not. But. For whatever reason, don't you think they up the style factor on a pair of pants, or in this case, shorts? The thing is…welt pockets…tricky beasts they is. Or so I thought. Until now. You see, Nicole of Nicole at Home posted a welt pocket tutorial complete with pattern PDF here. I've had it printed off and ready to go for months, and I finally decided it was now or never. I followed her flawless tutorial step by step, with nary a hiccup. not. one. Not even a scratch of the head, or a huh moment. And then it dawned on me. Lovely Nicole, had not only inspired me to up my sewing game, but she had also provided me with the tools and support to make it happen. Um…yeah…talk about a home run. So yes, this post is with special thanks to you, Nicole. I met you a year ago during the Super Online Sewing Match. Back then, I had you pegged as my main competition. Now, I have you catalogued as some serious inspiration.
Okay guys, here's a good one for you. Last Saturday, the mister and I were getting ready to go see Red Rock Diner, a rock 'n' roll musical with a Vancouver plot. Set in 1957, it was a no-brainer that I would wear my Betty Draper Dress. We had matinee tickets and we are routinely a bit rushed to get out of the house on time for these early shows. We have long done the check dialogue…you know…keys, check; glasses, check; tickets, check. As I picked up the tickets, which may I say are not nearly as special now that they are printed on our home printer, I gave pause. Errrmm, I thought…is it the 16th today? Odd. I thought today was the 9th. oh. dear. and. oops.. Wrong Saturday. Sheeesh…talk about a full dress rehearsal. I guess the bright side is that the tickets weren't for the week before. but. really. With an afternoon suddenly free, I switched out my fancy-schmancy for my Midnight in Paris Dress and flip flops and off we went to Trout Lake Farmers Market, upping our total number of market visits this summer to about six so far. Not bad, eh? On Sunday, we did a long, but leisurely cycle on The Vancouver Seawall. Yes. I had my camera. No. I didn't take photos. Managing a bike and a camera at the same time was not working well. Next time, I'll try harder. Okay, that's all she wrote today…thank you for reading, and inspiring me!
Shorts : : Me-Made, Cynthia Rowley Simplicity 1783
T-Shirt : : Me-Made, Self-drafted Pattern
Espradrilles : : Payless
Linking up with:
Sewing Adicta: Share In Style