Kelly Anorak : : Closet Case Files : : Arrivederci Firenze
Saluti e buongiorno. I've been away…on holiday….in Italy. And yes, it was as good….better actually…as I imagined it would be. The culture. The people. The food. All sublime. Now…as much as I want to ramble on about all things Italian…for this post, I'm going to try my darnedest to keep the focus on my Kelly Anorak – Closet Case Files most recent pattern release.
I was in the early stages of deciding what to pack into my teeny, tiny carry-on suitcase when the call to pattern test showed up in my inbox. This. This could be perfect, thought me. A lightweight jacket for potentially chilly evenings and roomy enough to wear over a vest or sweater if needed. Yes please…and enormous thank yous…for the opportunity Heather!
The details: snaps, drawstring, gusseted pockets…and my own addition of interior zippered pockets…all add up to a very stylish and RTW worthy jacket. Looks daunting, you say? Not only are the pattern instructions detailed, there are posts scheduled for the trickier bits on the Closet Case Files blog.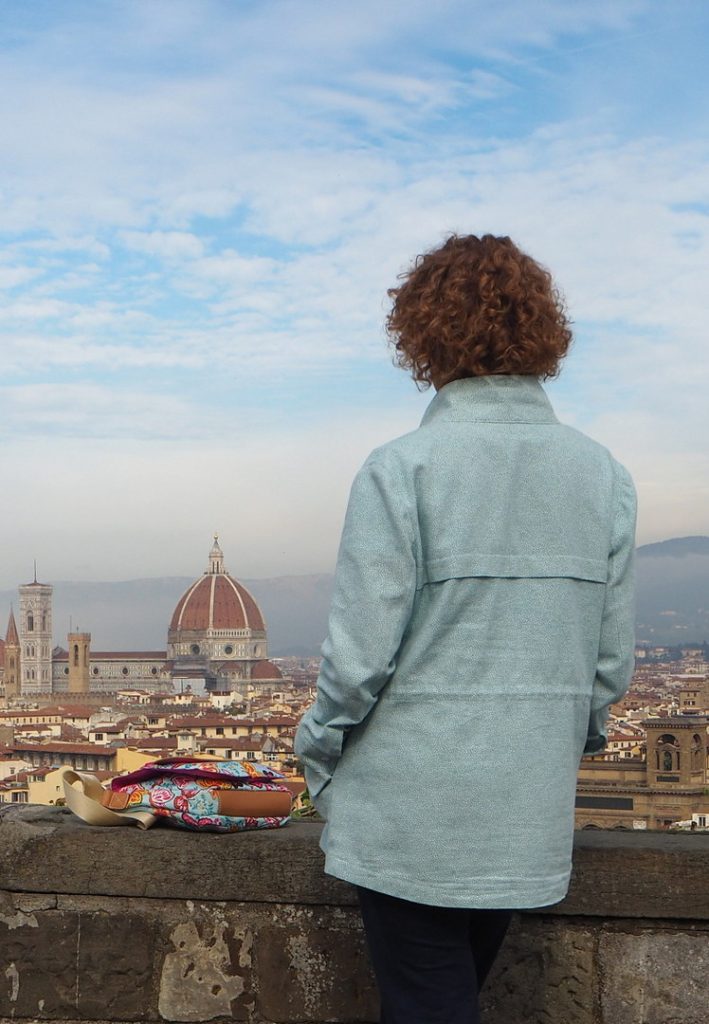 The Kelly Anorak calls for light to medium weight fabric such as cotton twill, gabardine or linen, or…for the superstar stitchers…waterproof ripstop or goretex. My dotty aqua fabric, pulled from my stash, is 100% cotton and maybe just a tad lighter in weight than twill. And oh my, was this jacket a trooper..it got a decent amount of wear…but, just as often…it languished…either draped over my bag, wrapped around my waist, or stuffed in my suitcase. Sure there are wrinkles…but fewer than I anticipated…and I think they actually suit the easy going style of the jacket.
The silhouette is timeless, don't you think?  Just like my previous Closet Case Files makes, 

I know I'll be sewing this again and again. 
You can find the pattern
here
.   
And, where…in the world…am I? I'm in Florence, at Piazzale Michelangelo, on the south side of the Arno River. The views of Florence are magnificent from up here…You can see the Cathedral of Santa Maria del Fiore to my left and the Basilica of Santa Croce to my right.
Okay…I've had one false publish already this morning…so I'd best get this show on the road. See you soon…Ciao.