My Highlands Wrap Dress : : An Allie Olson of IndieSew Pattern
Hallo, hallo.
When asked to describe my personal style my usual answer is classic with a twist. My use of the word classic refers to the silhouettes I most often gravitate to…trousers, jeans, t-shirts, button up shirts, shirt dresses; garments whose design lines are easily recognizable, known and understood. And the twist? Why you know I love me a pop of colour, or an unexpected pattern combination.
All well and good that…but…I cannot relegate my style choices to a single box. Nor would I ever want to.
Experimenting with personal style….playing dress up…isn't just fun.  I think it's a path towards rediscovering personality traits that may have been intentionally downplayed at various points in our lives.  As my life experience grows, my sense of self strengthens.  It is important to me that my clothing supports who I am. Essentially, exploring style options beyond my comfort zone helps me keep up with myself. 
All that to say…it's summer and every summer I feel the urge for at least a little bit of boho in my wardrobe. Maybe it's the heat…but I want gladiator sandals, lightweight cotton fabrics, beaded bracelets and easy, breezy everything.
This year's #sewtogetherforsummer challenge on Instagram was deemed The Summer of the Wrap Dress.
I waffled big time, squeaking in with my Highlands Wrap Dress by Allie Olson of Indiesew at the very last minute.  I've avoided sewing wrap dresses because of the potential for bodice fitting woes….too low, too tight…not quite right. This pattern, drafted for woven fabrics, gave me hope. I gave it the side eye for many weeks….it was seeing Emmanuelle's beautiful version here on her blog Zoubi Zoubisou that was the tipping point. Had to have it. Had to make it.
The Highlands Wrap comes with four options, midi or maxi length and sleeveless or short sleeved. Of note, there are different bodice pieces for the sleeveless versus the sleeved version. This, I appreciate very, very much.  I originally made the midi length version and felt completely frumpy in it. After much deliberation, I ended up adding a horizontal panel to the bottom of the dress….which if I do say so…adds loads of style. Oftentimes, necessity sparks creative expression.
So…it wasn't just the bodice that had me hesitant about the wrap dress. They can be flirty, that's for sure. And…with only two buttons and a tie belt for closure…is it any wonder I had doubts.  But…I'm happy to report…not only does the bodice cover comfortably, but the skirt does as well. The double layer of fabric, each wrapping in the opposite direction, really does offer a decent amount of coverage…even when the Pacific Ocean breezes are a blowin'.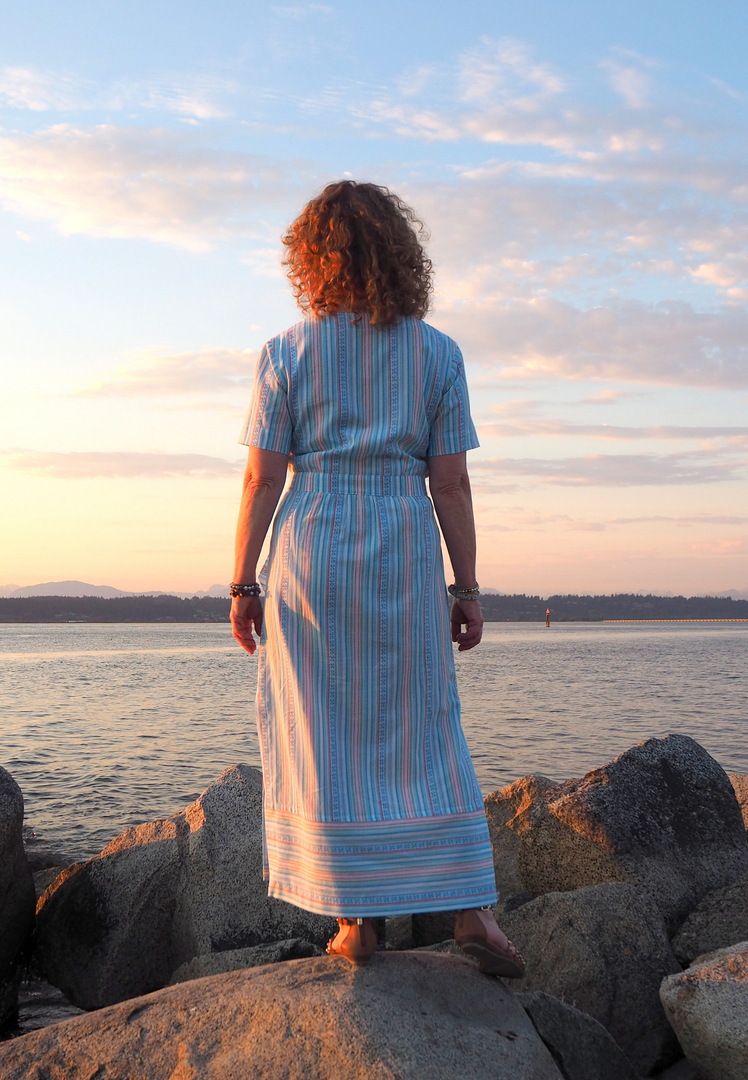 I ran into a small hiccup with construction. The back waistband is supposed to have a length of elastic in it. I ended up removing mine as it was pulling the side seams towards the back. I think I may have cut my elastic a bit too small. That being said, I don't miss it and don't think I will add elastic to future makes.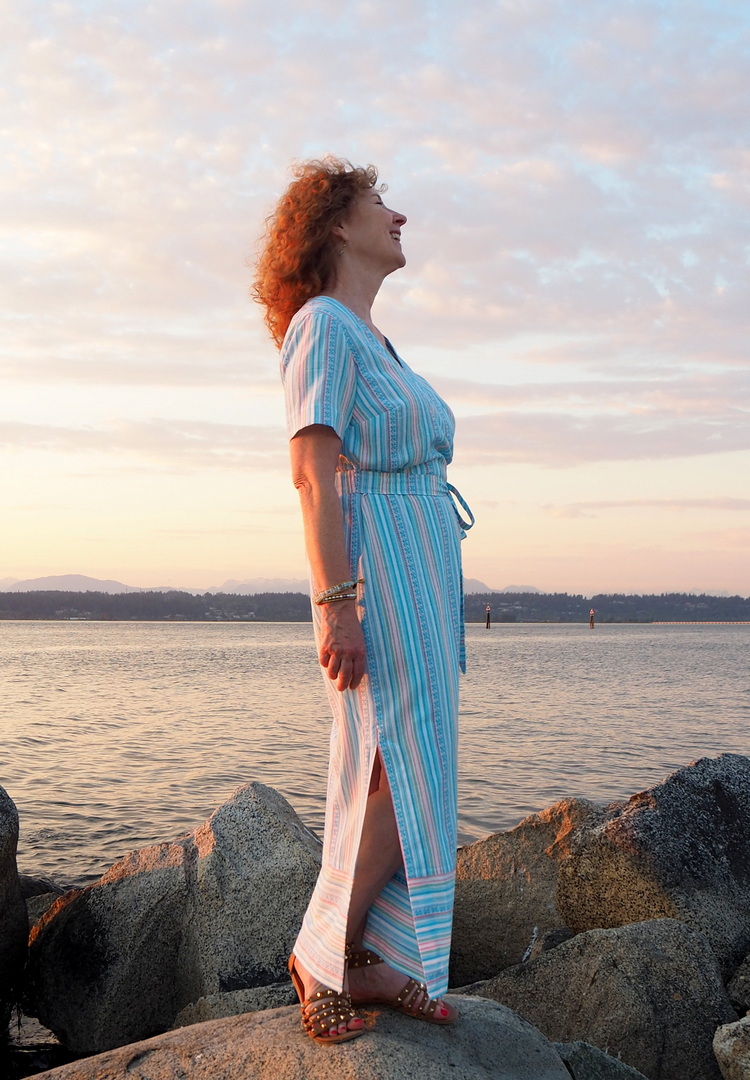 I love the side slits and the instructions for the mitered corners on the hem. I also love the sleeve length. I typically have to do a FBA and this dress was no exception. Darts are already drafted into the pattern and so the alteration was fairly effortless.
Before I sign off, I want to send an enormous thank you to the co-hosts of The Sew Together For Summer Challenge, Sarah, @sewsarahsmith on IG and Sew Sarah Smith blog, Suzy @sewing_in_spain and Monika @rocco.sienna  Sewing summer clothing is a favourite pastime and I loved seeing all the inspiring makes in my Instagram feed.
Last, but not least…massive hugs to my friends Suzanne Carillo, Patti from Not Dead Yet Style, Sherry from Petite Over 40, and Melanie from Bag and a Beret. I met these fabulous women through blogging and we recently spent a long weekend together. Here's a peek at the fun….
Wearing : :
Highlands Wrap Dress : : Allie Olson of Indiesew