Going Dotty for My Charlie Caftan : : Closet Case Patterns : : #2018MakeNine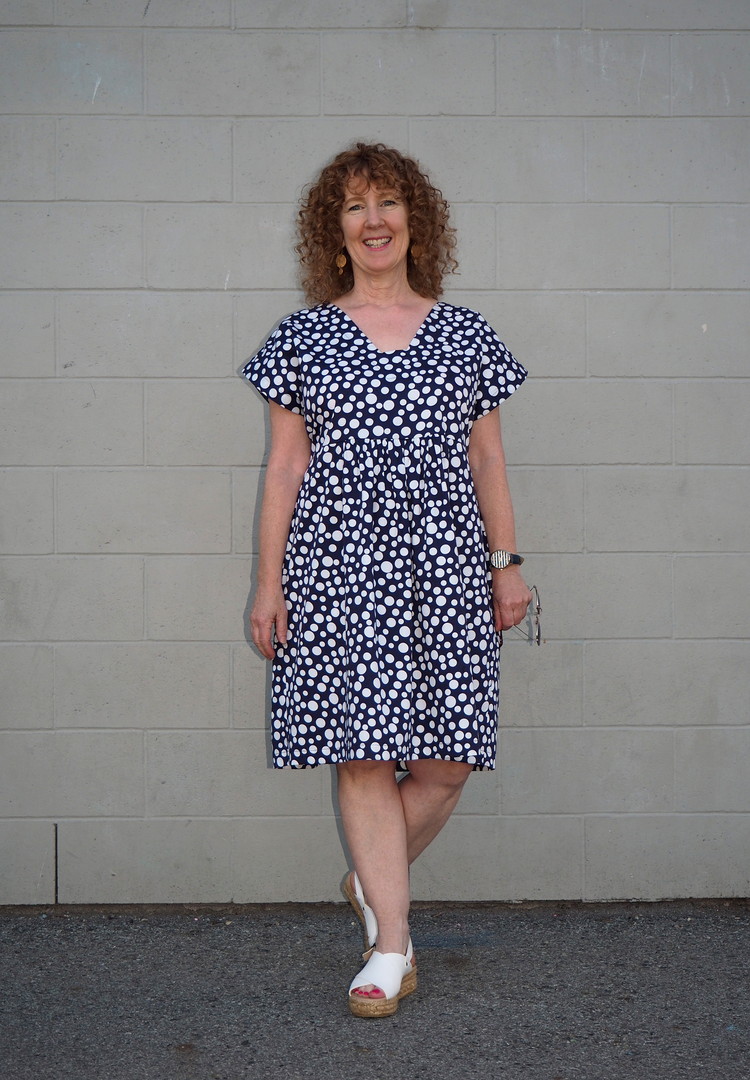 Hiya everyone.
I'm checking in today with one of my #2018MakeNine sewing makes. This is my sixth out of nine!
In my original #2018MakeNine blog post, I had this fabric pegged for either a Charlie Caftan or a Penny Dress by Colette. Given that my first Charlie Caftan, blogged here, was my most worn summer item last year, the scales were tipped in favour of another easy, breezy, polka dotty caftan.
And.
Just for fun.
I made some changes to the pattern.
Ahem…actually…quite a few, but I'm sure this no longer surprises you.
Okay….as you can see, I've made some tweaks to the bodice, most noticeably the inset (image top right).
It's not there.
To be clear. I like the inset. I think it's a lovely design feature. But! As I wrote in my post last year, it can be a bit of a tricky beast. So, after some thought, I rationalized that visually it would be almost completely lost in the busy print. I asked myself, would I miss it? Nope, not this time.
Here's how I altered my pattern…I cut horizontally across my front pattern piece using the cutting line for the inset as my guide. Voila…I had a bodice piece and a skirt piece. I added a seam allowance to the bottom of the bodice and to the top of the skirt piece. I then removed 5/8″ off my bodice center front pattern piece and placed it on the fold.
The second change I made was to redraft the sleeve slightly higher for a bit more coverage. I followed Coco's ( Coco's Loft ) tips here. To reiterate…I love my first Charlie. It's just that with this make I was aiming for a slightly more dress-like silhouette.
And that brings me to the V neckline. With all the drafting I was doing, I decided to also raise the V-neck opening. Yet….at the last minute…thought nope, it's too conservative…leave it as is. 
Well.
I sewed the garment. I tried it on. And…hello….the bow on my bra was completely visible. This ain't gonna work thought me. I ended up sewing a small square of fabric, (with some boss pattern matching) into the V.  In the image, top left, my thumb is marking the original point of the V.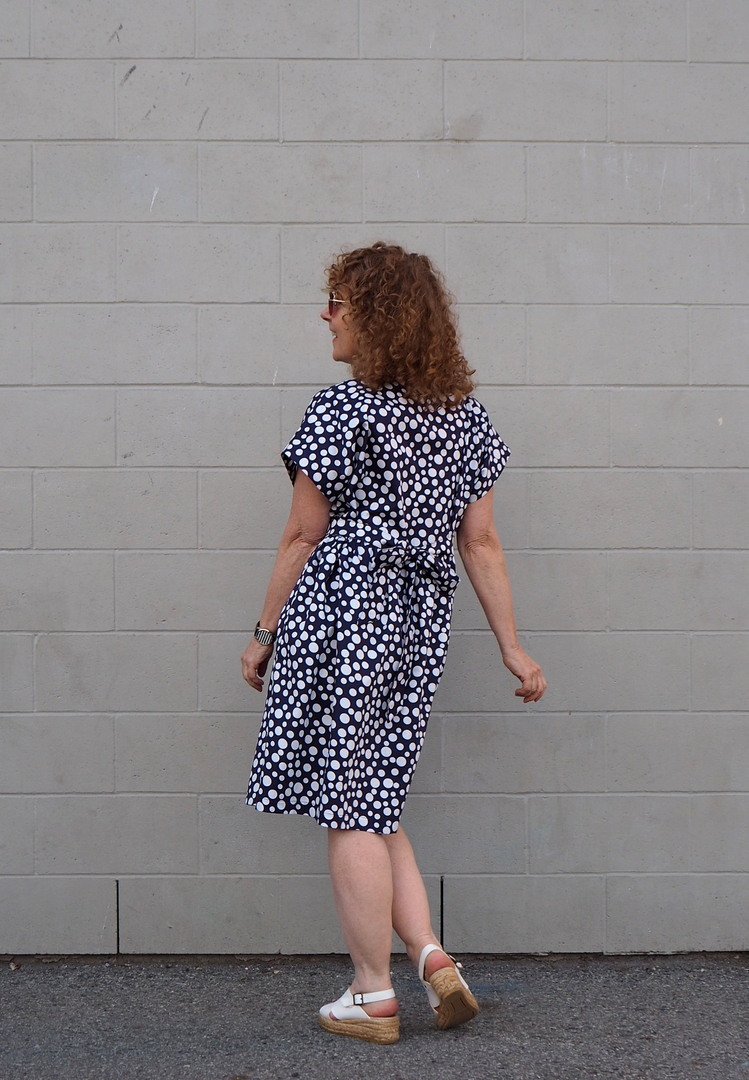 Okay. On my first make, I chose not to add ties. On this version I added ties, but I made them wider than the pattern calls for…1 1/2″ to be precise. And…I attached them at the side seams.
I also decided to add some fullness to the back of the caftan. I created a back bodice and a back skirt by making a horizontal cut across the back pattern piece…right at the same parallel as my newly created front bodice and skirt pieces. I widened the back skirt to a width equal to the front skirt, gathered it, and sewed it to the back bodice.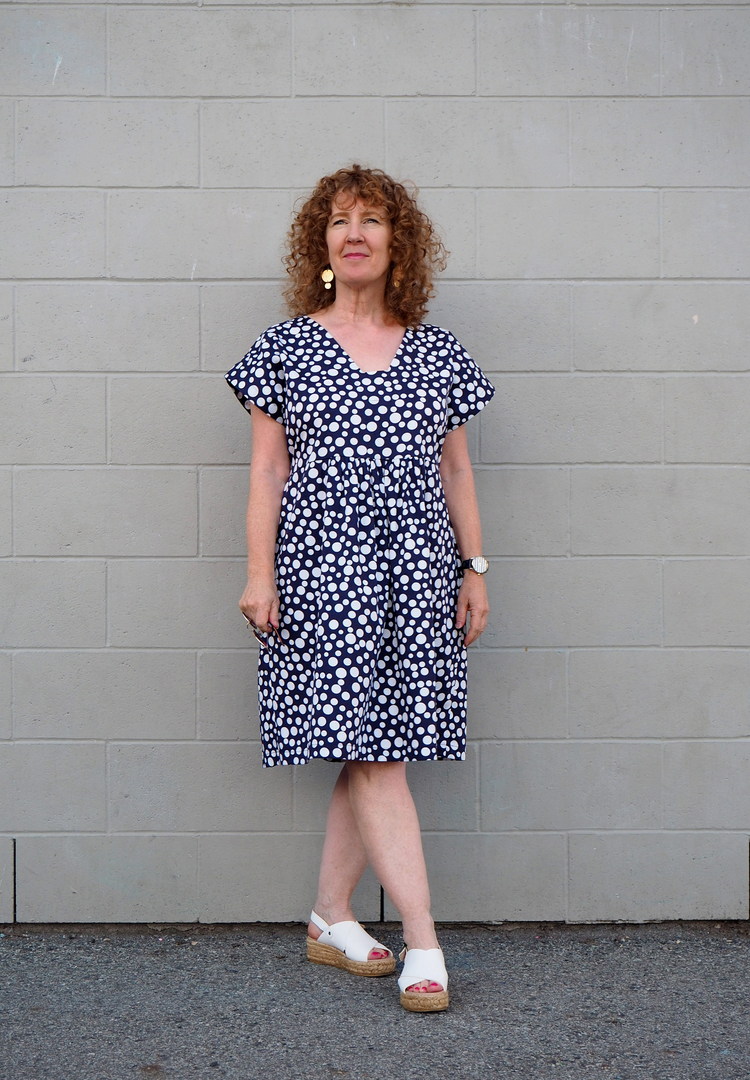 My fabric is a lovely 100% cotton purchased from Dressew in Vancouver. Navy and white random polka dots…I couldn't say no.
Oh yeah…there it is. Visible side bra.
But seriously…I feel very comfortable…I think bra flash will be at a minimum.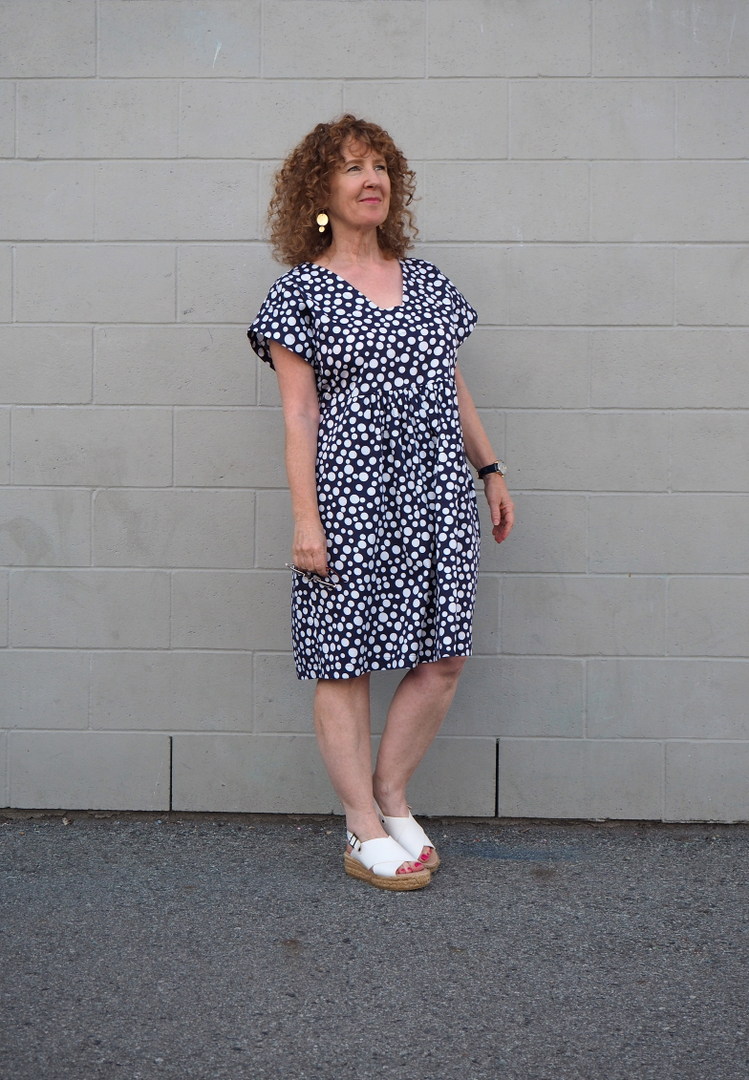 All righty. One final announcement before signing off. Have you ever watched That Sewing Blab? It's an hour long live Internet sewing show hosted by Dawn of Duelling Designs and Myra of Simple Inspirations.  It airs every Tuesday at 7:30ET after which it gets posted to Dawn's Youtube channel. The show is interactive…you can join in via on-air chat or via the live comments section.
Dawn and Myra are starting a new series titled Sewists to Watch Series. And looky dat…Canada is the first stop on the globe. The series kicks off tomorrow, July 10, 2018, with Dawn, guest host Gillian from Crafting A Rainbow, and an impressive roster of Canadian sewist guests. Plus…um…me. I'm excited. I'm nervous. I'm grateful to be included! Here's the pre-link to the show: Duelling Designs: Upcoming Events. Hope to see you there!
Wearing:
Charlie Caftan : : Closet Case Patterns  : : also seen here