My #2019MakeNine Picks : : And Cyber Space Can Be a Scary Place
Hi ya…today I'm documenting my #2019makenine sewing goals. But first…
Notice of a blog publishing/delivery change and why.
Last year there was a wee bit of drama chez A Colourful Canvas. My blog was scraped in its entirety. What does that mean and what does that look like? Well..imagine my blog just as you see it now, but at a different web address with a different blog name and…wot…a different name under my photo. It was all a bit creepy weird in the usual ways. It felt like theft. It felt all kinds of wrong. Adding to my frustration was seeing this bogus website rank super high in search engines, effectively eclipsing my own little blog.
This kind of trolling happens. A lot. I suspect the goal is to hi-jack sites that have some kind of e-commerce…either sites that sell a product or a service or otherwise receive revenue from ads or click-throughs.
It wasn't without some serious effort that we got the offending website taken down. But. We did. And moving forward, we've added security features to my site that are supposed to make content scraping difficult. Additionally…as recommended…I've changed my RSS to publish only a portion of my posts. If you regularly read A Colourful Canvas via email or a feed reader such as Bloglovin', you will now receive a short teaser with a click-link that brings you to the full post here on my blog. I apologize to those that find this inconvenient, but my experience really motivated me to do more to protect my content.
Okey dokey. Let's switch gears and talk sewing plans for 2019. Because my #2018 Make Nine, review here, was such a success, I've been looking forward to participating in the challenge again this year. I'm not usually much of a planner, but this gentle challenge really helps me focus on sewing with the goodies I've collected over the past few years. Yep…my choices are once again drawn from my pattern and fabric stash.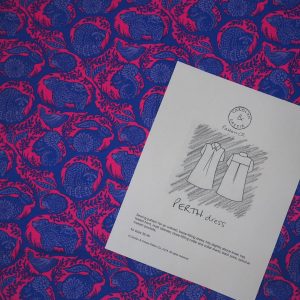 I was immediately attracted to the bright pink and purple tints in the cotton above, bought a few years ago from a local fabric store that was closing out. The print is raccoons and rabbits and bears. As much as I like the print and colourway, it doesn't really go with anything in my wardrobe. My solution? Make a dress. Dresses don't need to go with other separates, amirite? I've chosen the Perth Dress pattern by Carolyn and Cassie. I've only made this dress once; and sadly wore it but a few times. I blame the fabric…tencel denim and you can see it here. I never ever liked the feel of the tencel. Everybody seems to love tencel….but me, not so much. It's too soft and drapey, but kind of sticky in a way. I'm looking forward to making a lovely fresh Perth Dress.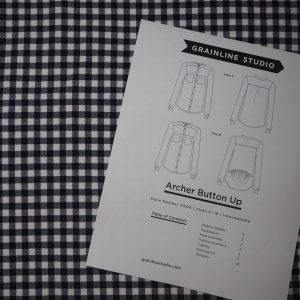 I'm always all about the navy and white colourway. And gingham…why hello. I bought this high quality fabric from Thread Theory over a year ago with the thought that I'd make G a shirt. But no. I'm a gonna make me a shirt instead. I've chosen the Grainline Archer. The fabric is cotton with a flannel-like hand…so…if not now, it'll be in the queue for autumn.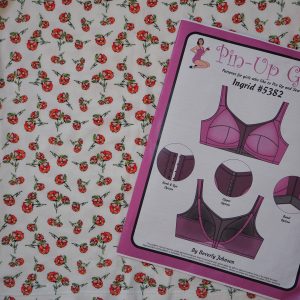 I'm continuing the making of the under things in 2019. This year's goal…a well fitting wireless bra. I bought Pin-Up Girls Ingrid Bra back in the fall, but just haven't got to making it yet. And does that fabric look familiar? I used it for my #2018makenine wired bra and underwear set. This bit of fabric is actually this Rowan Tee which I can't wait to tear apart and make more underthings. That top in that fabric…was just way too form fitting for my liking.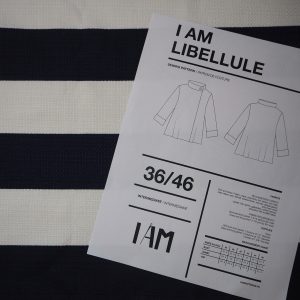 Hello again blue and white striped coating that didn't get sewn last year. I've picked another pattern for this fabric with high hopes. It's a French pattern company, I Am Patterns, and the pattern Libellule Coat can be made as a dress, top or coat. It has all the elements I'm looking for.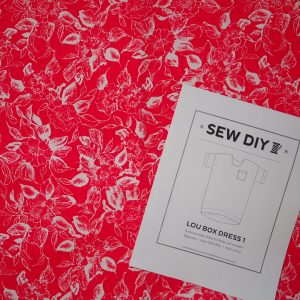 Pretty pink and white Laura Ashley fabric. This is a huge piece of fabric I found at my local thrift store. It has a handwritten, taped on price tag of 3 pounds. So, some lovely person bought this in the UK, brought it home, probably kept it in their stash for years…and then donated it to goodwill just for me. I've picked the Lou Box Dress 1 by Sew DIY for this fabric…but…this would also be really lovely as a Charlie Caftan.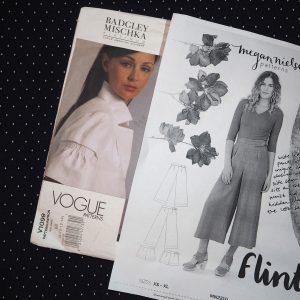 Ooooh…up next is a twofer. Difficult to see, but this a print; a dark blue, white dotty and black patterned print. It has a slight stretch with good recovery. Feels like cotton, probably with lycra. I may be taking a chance here….not quite sure if the fabrication will be suitable for my chosen patterns. For the pants; Megan Nielsen's Flint Pants; for the jacket; a vintage Vogue Badgley Mischka Pattern #V1099.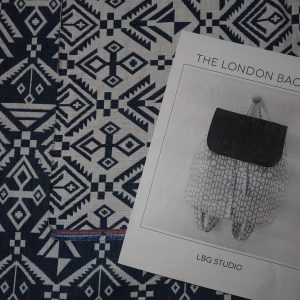 So. My 2018 purse goal turned out to be a dud. But. Good news is that I realized that I really want to make a backpack. I have a couple of patterns in my stash and my first choice is the London Backpack by LBG Studio. My fabric is a woven with beautiful patterns on both front and back. My plan is to integrate both sides of the fabric into my make. The risk, however, is ending up with a backpack that is a little too busy.
Between us: What I really want is a backpack that looks rather like a rucksack…maybe leather or suede…definitely a solid, neutral fabric…one that would go with lots of outerwear. I don't have any of these fabrics in my stash but if all goes well with my first make…well, lemme just say I've been shopping around.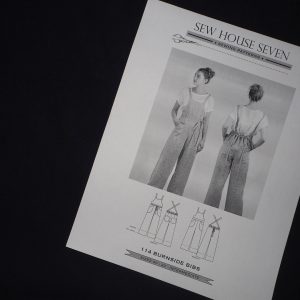 Onto the Burnside Bibs. I've had this Sew House Seven pattern for sooooo long. And. I've had this navy cotton twill for almost as long. Will the twill be too structured for the overalls? Not at all sure on this one. My heart says linen but my head says make the pattern in the twill before splurging on a quality linen. And. Truth is…I'm not totally confident on how this silhouette will look on me, so best to start with fabric from my stash.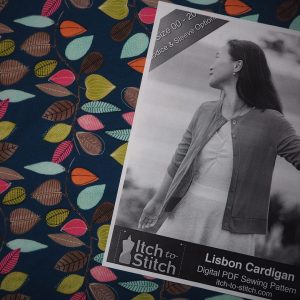 Last up in the grid is the Lisbon Cardigan by Itch to Stitch. The fabric is a printed knit that I bought online. This is one of those online purchases….deep discount…that maybe wasn't the deal I thought it was. It just does not feel right for any pattern I choose. It's weird. I love the colours. The fabric is top-notch quality. But. Every time I try and match it to a pattern, I get stuck. I figure I can at least do a muslin for the Lisbon cardigan. Do any of you dear readers have a pattern suggestion?
All righty peeps. That's it for today. In addition to my sans-serif font, I have made the text darker. Does this help?
PS You may not have caught my last post in full. It was a full review on my #2018 Make Nine and you can read it here.