Cielo Dress : : Rome Collection : : Closet Case Patterns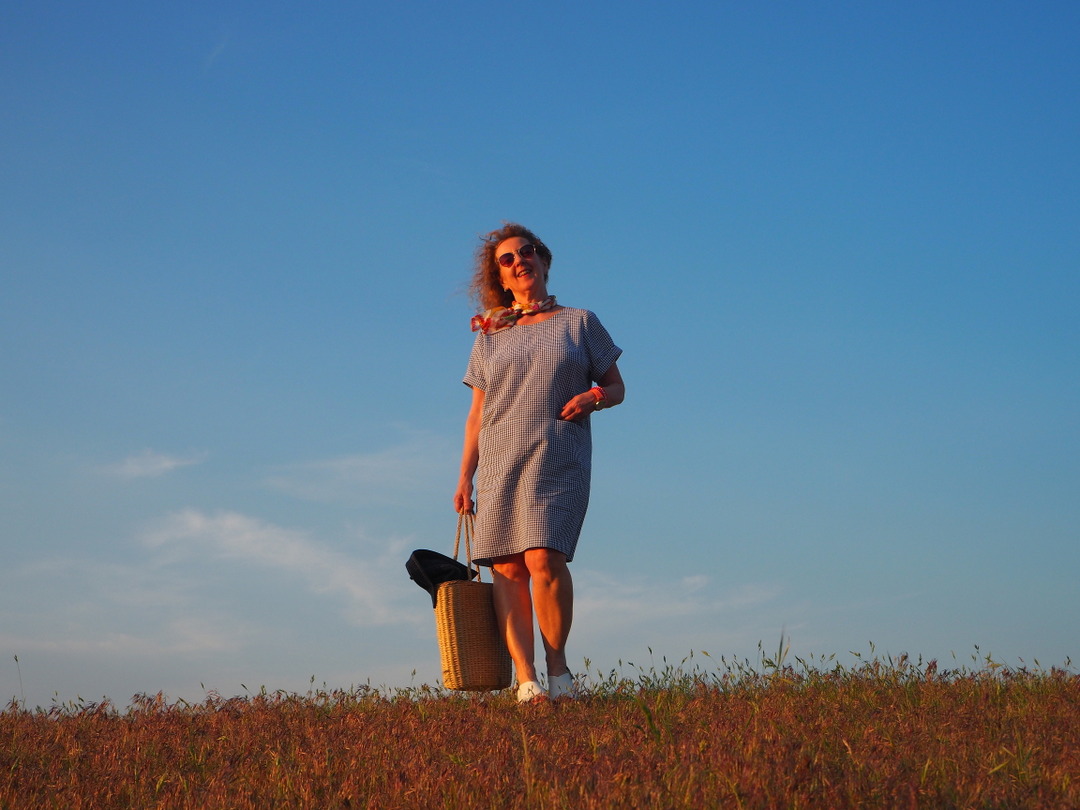 Hello and buon giorno.
Perché l'taliano?
Well…because that'll be me wearing my new Cielo Dress. It's one of a trio of patterns in the newly released Rome Collection by Closet Case Patterns. The mini capsule features Cielo, a top and dress pattern; Fiore, a skirt pattern; and Pietra, a pants and shorts pattern. Unlike their usual naming tradition, Heather and her team turned to the ever beautiful Italian language for words that were evocative of their newest designs.
Heather's inspiration for her Rome Collection was the Eternal City herself. And I GET IT. I too find the city to be enormously inspiring. The name Cielo (which fyi is Italian for sky) resonates with me…I remember being quite smitten with Rome's sky. Ah Roma….it's a good thing this pattern is rated as beginner friendly…because seriously…I found myself daydreaming about Rome every moment of the make.
I was happy to be pattern testing again for Closet Case Patterns…it's been awhile. I sewed Cielo Dress View C – a shift dress with inseam front pockets…and those pockets…almost a pouch pocket, but in the chicest possible way.
The short sleeves are cuffed and there is also an option for the dreamiest long sleeves. I'm calling them minimalist statement sleeves. And…even though I'm so not into the big sleeve trend…I admit that I'm seriously tempted to give the Cielo long sleeves a go.

The neckline has two finishing options; either a facing as I've done or bias binding. Although Cielo has a boxy silhouette it isn't without shape. Bust darts that end at the armhole edge provide subtle contouring.

I think that the horizontal seaming integral to the pockets will lend itself well to a colour-blocked version.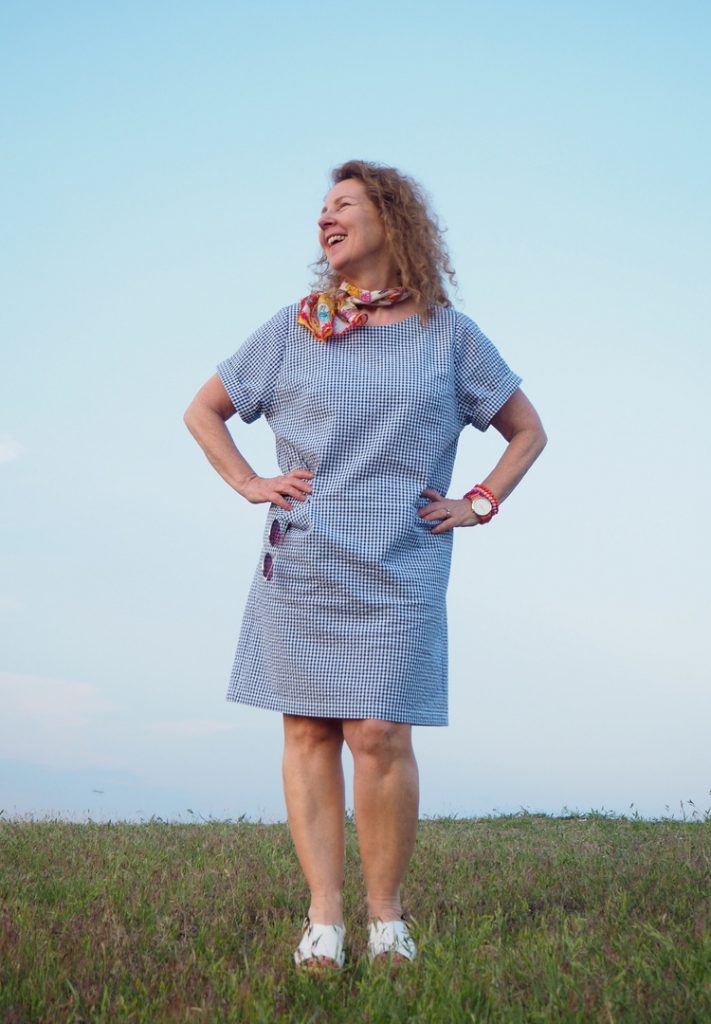 As is typical of Closet Case Patterns, all available sizes are included in a single pattern. Additionally, the Cielo Dress/Top includes separate pattern pieces for both C cup and D cup bodies. I sewed a size 8-C cup in the bodice, size 10 waist, tapering back to a size 8…exactly what the fit instructions suggest. I shortened the pattern at both the shorten/lengthen line, which is above the pocket placement line, and also at the hemline.
The back of the dress is pretty basic. One advantage to this….minimal wrinkling. Always a bonus if traveling. On the flip side, it might be described as shapeless. You choose.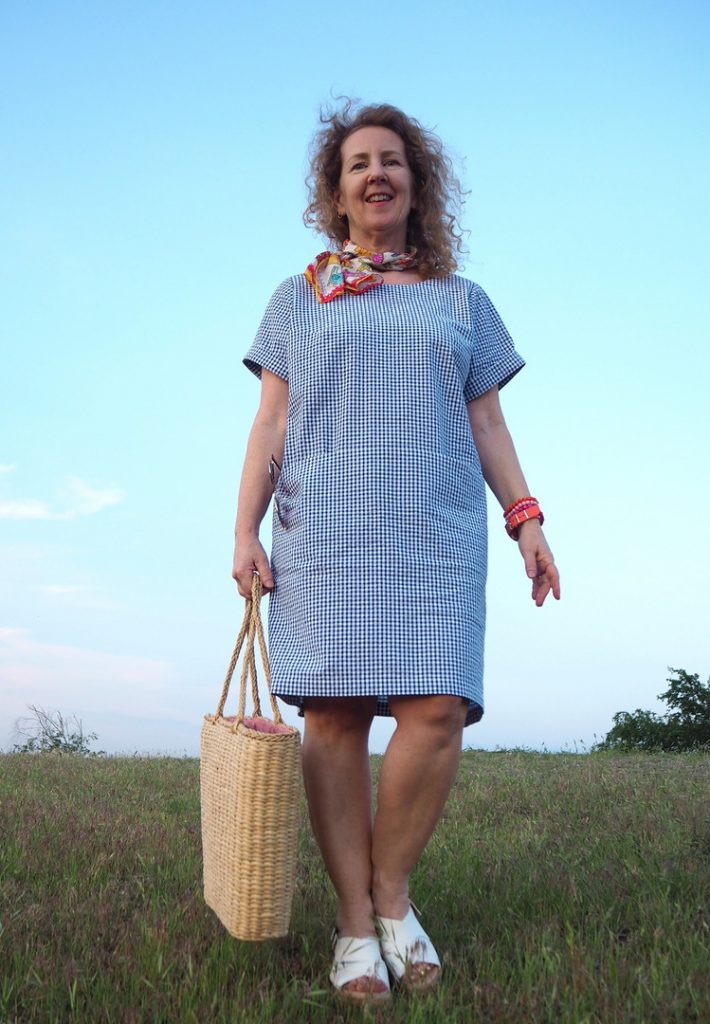 No buttons, no zips…a flat-out-simple over-the-head shift dress. I wore mine with a silk scarf, handmade bracelets, sunnies and espradrilles. Simple accessories that I feel comfortable in. I would happily wear this outfit from day to night.
Why hello blue and white gingham. My fabric is 100% cotton shirting from Fabricana*. I love how the crisp fabrication accentuates the slightly boxy silhouette of the dress. The natural fiber is cool; the shape is breezy. Total comfort for a warm day.

*Are you local to Metro Vancouver? Have you heard that Fabricana's Richmond location is closing (insert sad face here)? It's rumored that they will be keeping the Coquitlam retail store open and offering online sales in lieu of their Richmond store.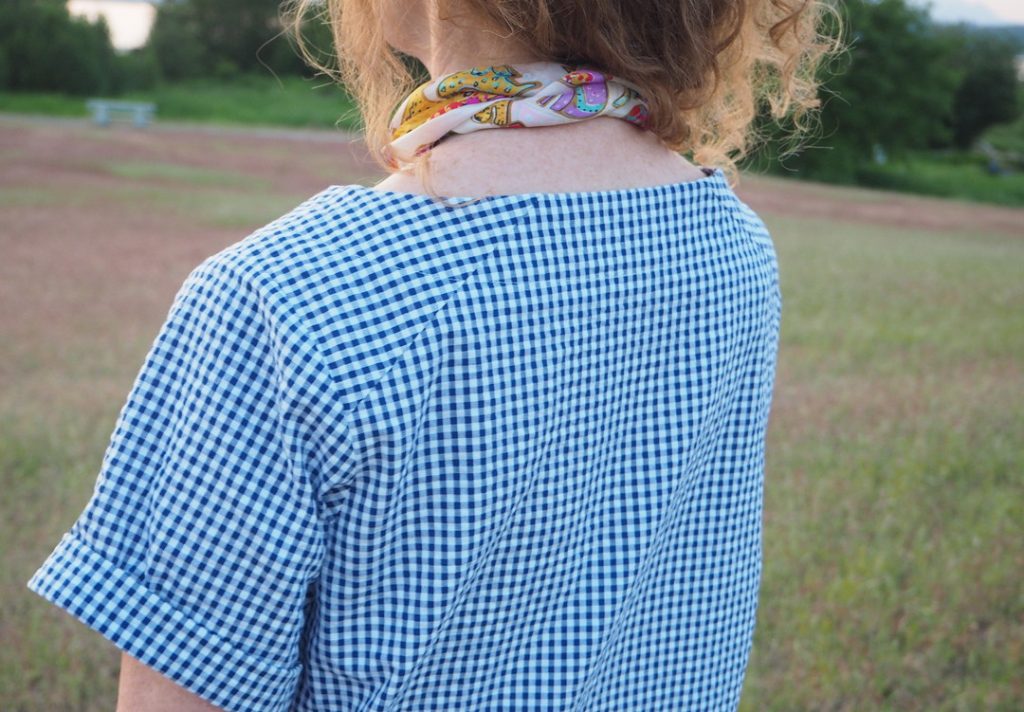 Some of you may remember one of my earlier blog posts in which I discussed how I improved the fit of my Kalle Shirt Dress. I did a high round back adjustment and a forward sloping shoulder adjustment (you can see the post *here*) and those tweaks were big improvements. I opted to make the exact same adjustments on my Cielo Dress, and again, I'm really pleased with the results. The neckline lies flat and the dress doesn't shift backwards as I wear it.

And…bonus…because the Cielo Dress has a dropped angled back shoulder seam…you can see it running diagonally from the armhole seam to the neckline in the above photo…I was able to integrate the HRBA neckline darts into the seam. Cue the angels singing!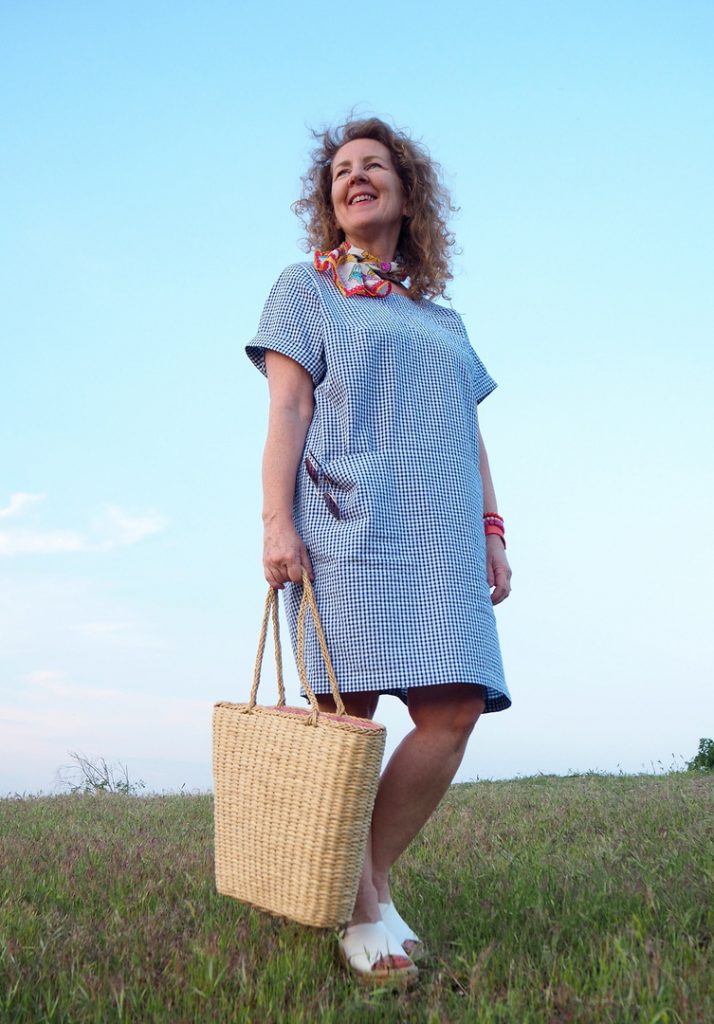 As a thank you for pattern testing I was generously gifted each of the patterns in the collection. I'm excited to bust out the Pietra Pants…for me elastic waists are a necessity when traveling, be it a day excursion, a weekend getaway, or a full on holiday escape.

I don't have immediate plans to make the Fiore skirt…but here's what I predict. I'll spend an unreasonable amount of time saying Fiore out loud…Fiore. Fi-ooooor-ay. Fi-ah-yoooor-eh…all the while telling myself I never wear skirts. Then I'll see Closet Case Patterns samples and their inspiration boards. And then suddenly, I'll have a deep seated need for a Fiore of my own. Does this ever happen to you?

Photos of me with my local sky as a backdrop.