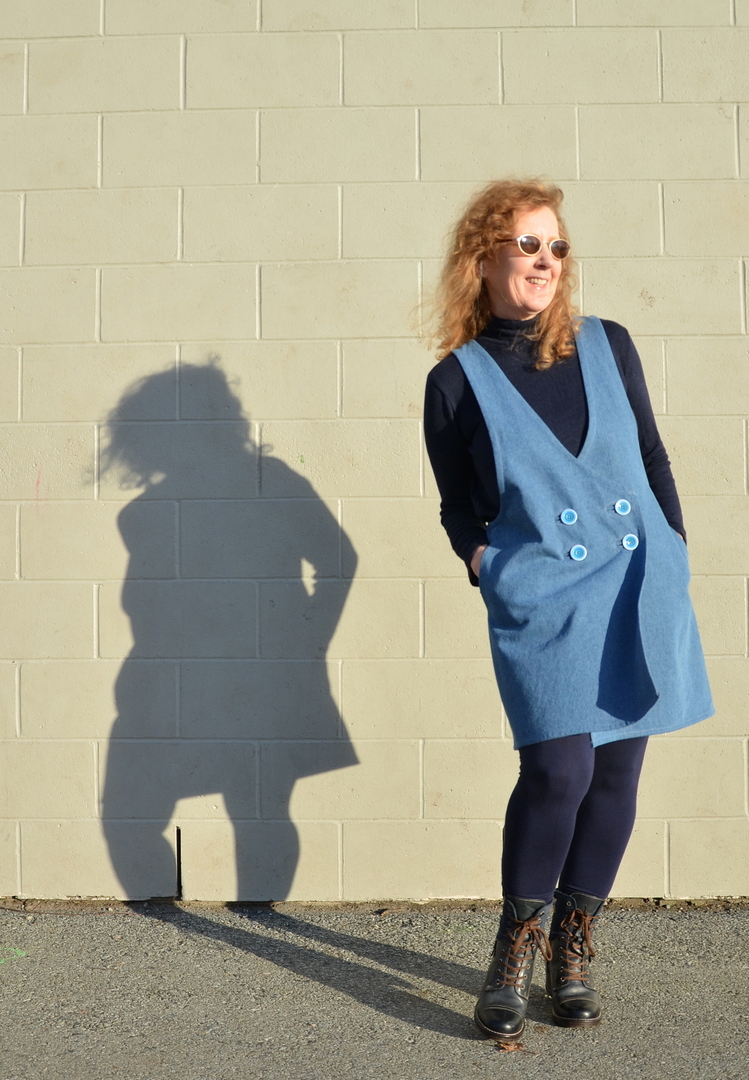 My York Pinafore Wrap Hack : : January Sew Your Wardrobe Basics : : You Can Hack It
Hiya readers.
So a thing happened. Last September/October-ish I lost my sewjo. Not just my sewjo…I had nojo….there was no sewing, blogging, writing, or painting happening round here.
Creative blocks happen…and I actually think I had a good long streak of making before hitting the wall. But hit the wall I did.
During my down time, I did other things. I took care of my beloved senior kitty until he crossed to the light. (Yes, I am very sad about that.) I organized drawers. I cleaned. I played my harp. And I read books. A lot of books.
Two of those books got me deep thinking about my making and the negative effect it might have on the environment.  Elizabeth L. Cline, author of Overdressed: The Shockingly High Cost of Cheap Fashion and The Conscious Closet writes about how very damaging fashion is on the environment. Although I almost never shop for clothing retail, I am guilty of making more than what I really want or need. I donate ill fitting and 'What was I thinking?' makes to charity thrift stores; fabric scraps are donated to my local recycling center…but….too much is too much. I feel I can do better.
I'm not going to stop making. Making is such a huge part of my identity; it's essential that I create beautiful and/or serviceable things. Being creative is good for my health and my brain and my socialization. That being said, I'm going to try and create a little less…with a lot more intention.
Some refer to this as the slow sewing movement. However you describe it, I am attempting to choose projects that require a little more. A little more time. A little more thought. A little more connection with others.
I'd love for you to share your thoughts on this subject in the comments below.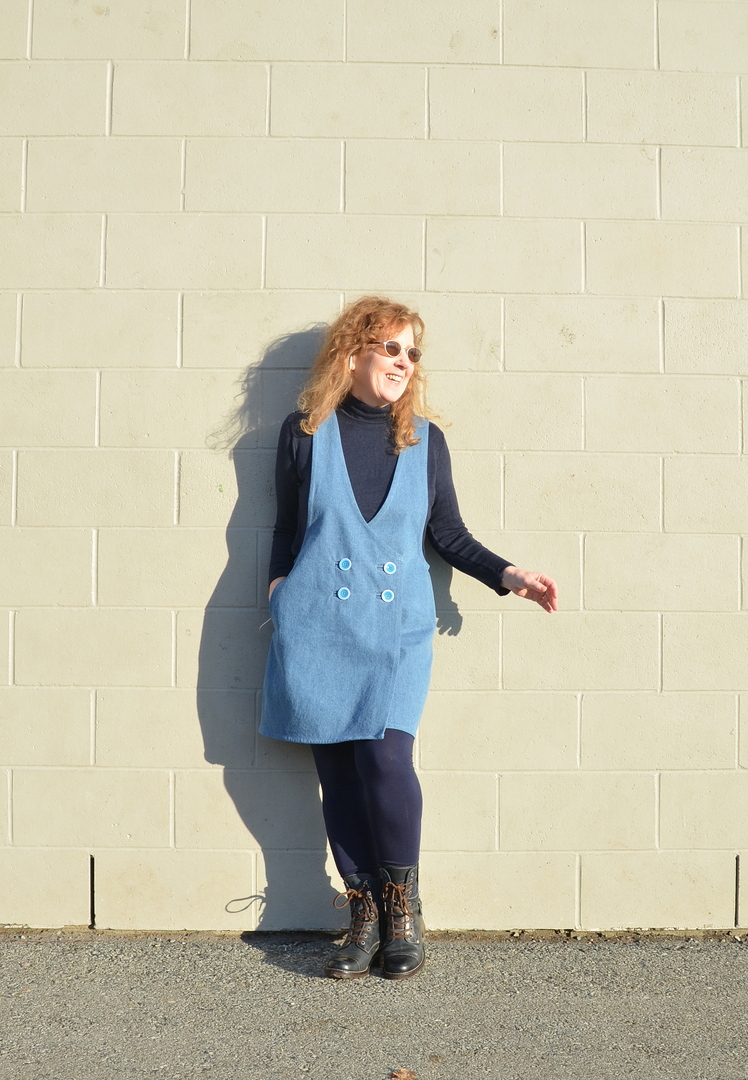 Okay…today's make. First make of the year. First really successful make since September.
While I was floundering, thinking I'd never sew again…I would scroll Pinterest or Instagram looking for ideas. Any idea. Something to wake me up. Start a spark.
The lovely Stef of Sea of Teal gave me just the spark I needed. Stefanie has challenged herself to make 12 wardrobe basics over the course of the year; a garment each month. At the beginning of each month she reveals the theme, and provides inspiration and pattern ideas. Throughout the month she posts to her instagram account, sharing her progress and the progress of others. As always with sewing community challenges, there aren't strict rules…if a month's theme doesn't fit with my wardrobe needs/wants, I'll skip it.
SO….January's theme. Denim! Such a wardrobe basic, yes?  When I think denim and basics, I immediately think jeans. I've made a few pairs of jeans. Quite liked them too. My sewing machine struggles with some of the bulkier seams…I'm talking about you belt loops and hems. Sigh…takes some of the fun out of sewing them. I, fortunately, often have really good success with finding jeans at my local thrift store for $3.00 a pair. I can't even buy the notions for that. And…please let me stress that money should never be a deciding factor when it comes to creative expression. It's just that for me…currently…sewing my own jeans doesn't make my heart sing.
Apparently what does make my heart sing…is hacking the York Pinafore. Ah-gain. I used some of my little grey cells working out the hack and I used a remnant of denim from my stash of fabrics. I kinda feel like I'm doing a double double (Canadians might get that); the denim is a basic and….hello…most of us that sew the York Pinafore consider it a basic pattern too.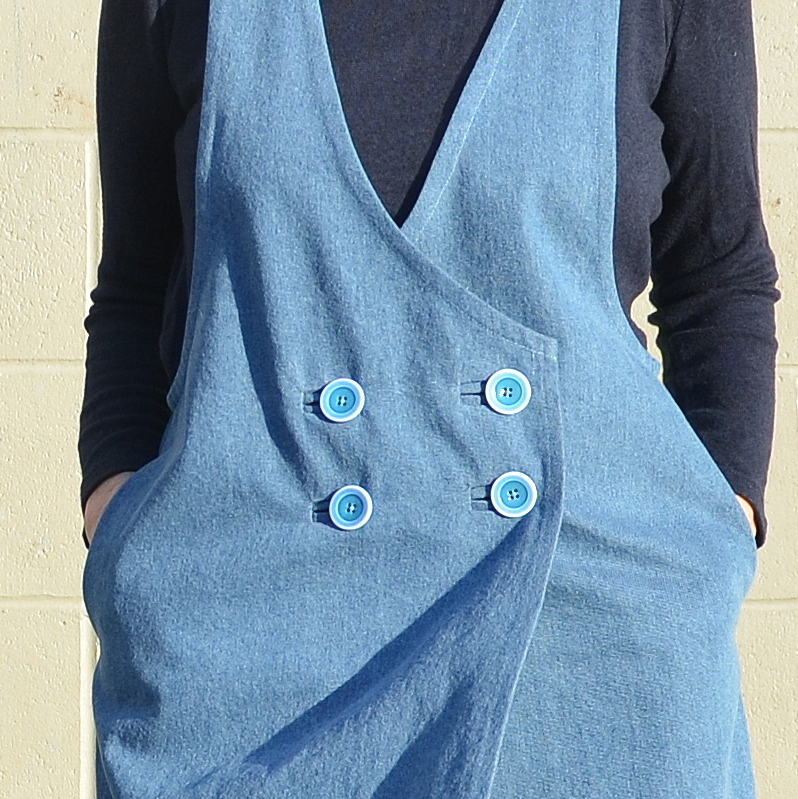 Above you can see that I made bound buttonholes. Here's the thing with those bound buttonholes…they ended up being necessary. Well, not absolutely necessary…I could have opted for no buttonholes, sewn the garment closed, and added buttons decoratively. Machine buttonholes weren't an option because they wouldn't have been suitable for a single layer of fabric. Because I finished the neckline with the bias bind method as instructed in the pattern I couldn't really add a typical facing either.
What would be stellar is a full lining using the bias binding method for finishing the armhole. I want to try this. But. I can't. I mean…I can. But I just spent half this blog post saying how I was going to sew less stuff with more intention. Let's compromise. Maybe in the spring I could do a linen Wrap York Pinafore with a bemberg lining?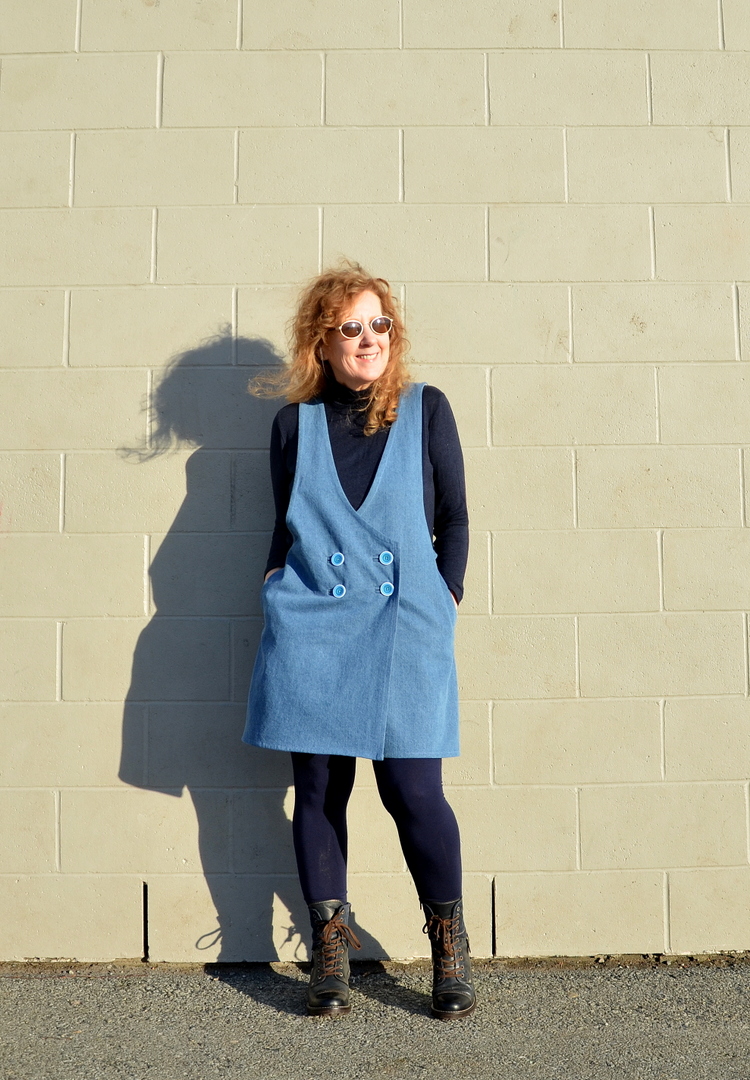 It's a tad on the short side….but hey…I was working with .8m remnant of 8.5oz denim from Blackbird Fabrics. The pinny looks cute with skinny jeans under it. I'm also wearing Avery Leggings from Helen's Closet and my Rise Turtleneck  from Papercut Patterns. All fabric from Blackbird Fabrics! Buttons from Button Button.
The details on the hack are as follows:
Add 4 1/2″ inches to center front line.
Redraft neckline to new pattern front edge.
Cut two center fronts.
Finish garment neckline and armholes with bias binding.
Fold center front edge in 3/8″ and again 3/8″. Machine stitch.
At this point garment can be blind stitched together and decorative buttons added.
Or alternatively: omit neckline bias binding and  fully line pinafore, finishing armholes with bias binding. Add buttonholes and buttons.
Please visit Sea of Teal's Link Up Party!
Wearing : :
York Pinafore : : Helen's Closet
Avery Leggings : : Helen's Closet
Rise Turtleneck : : Papercut Patterns