My Jenny Overalls : : Closet Case Patterns : : Dressing For My Personality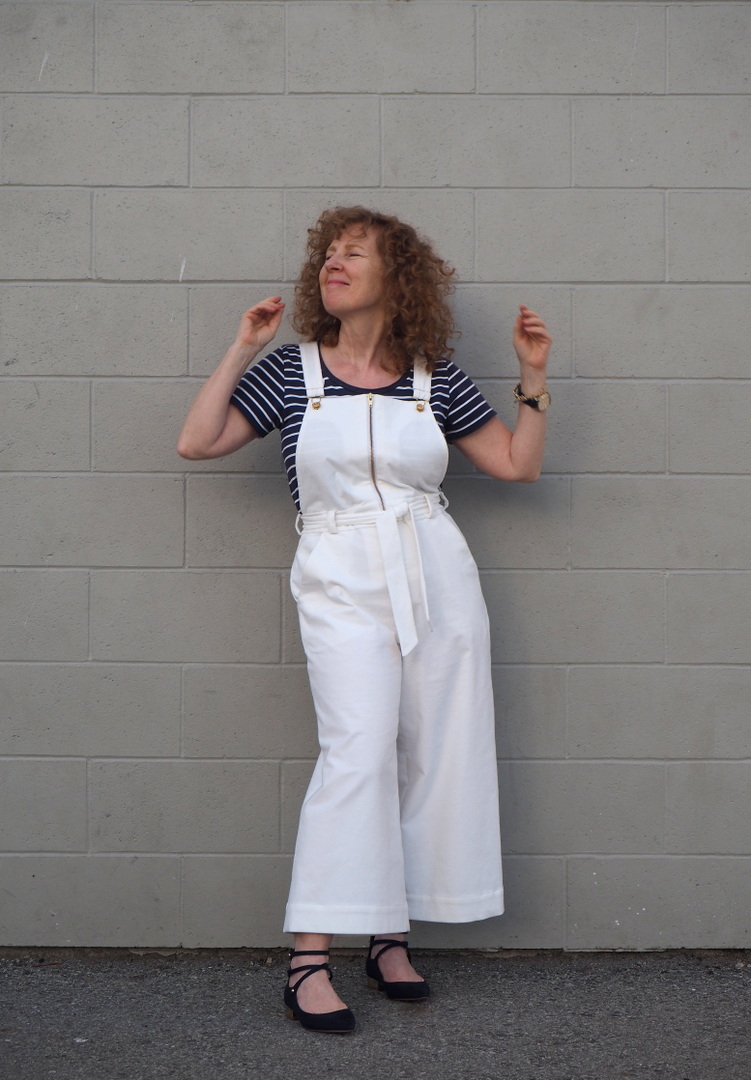 Hey peeps.
Back…as promised…and modelling my Jenny Overalls from  Closet Case Patterns.
I patterned tested for Heather a few months ago, sewing two muslins in the process.  Unlike other testing I've done, I used inexpensive muslin fabric for my makes…because, well…that never ending debate about whether one should or should not wear overalls after the age of…I dunno….six?  To be clear,  I wanted to make the overalls. But…insert pensive expression here…I was just really unsure if I was going to be able to pull off the look.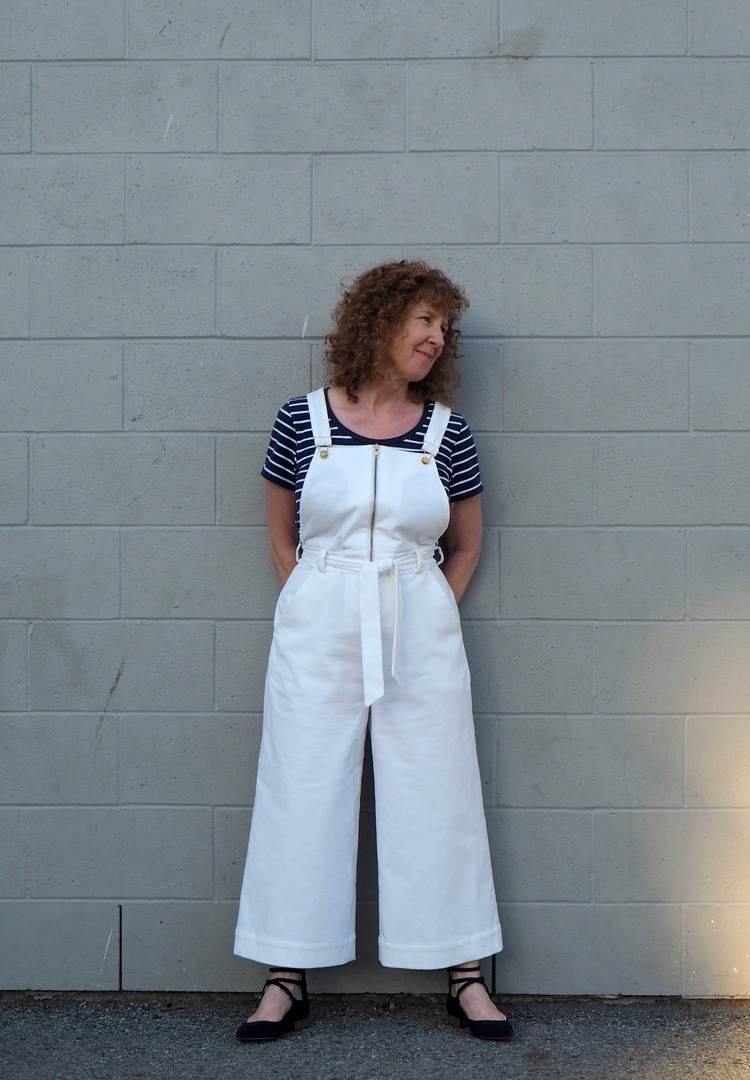 I've long said that I dress to suit my personality and…after some contemplation…I committed myself to making the overalls version.  Okay…full disclosure…it wasn't just contemplation. I emailed style mavens Heather (Closet Case Patterns) Suzanne (Suzanne Carillo) and Melanie (Bag and a Beret) and asked their opinions. They were all eleventy hundred percent in favor…they collectively empowered me to give my version a go.
I'm so happy I went for it.
They feel really me…they're fun but they don't feel too juvenile.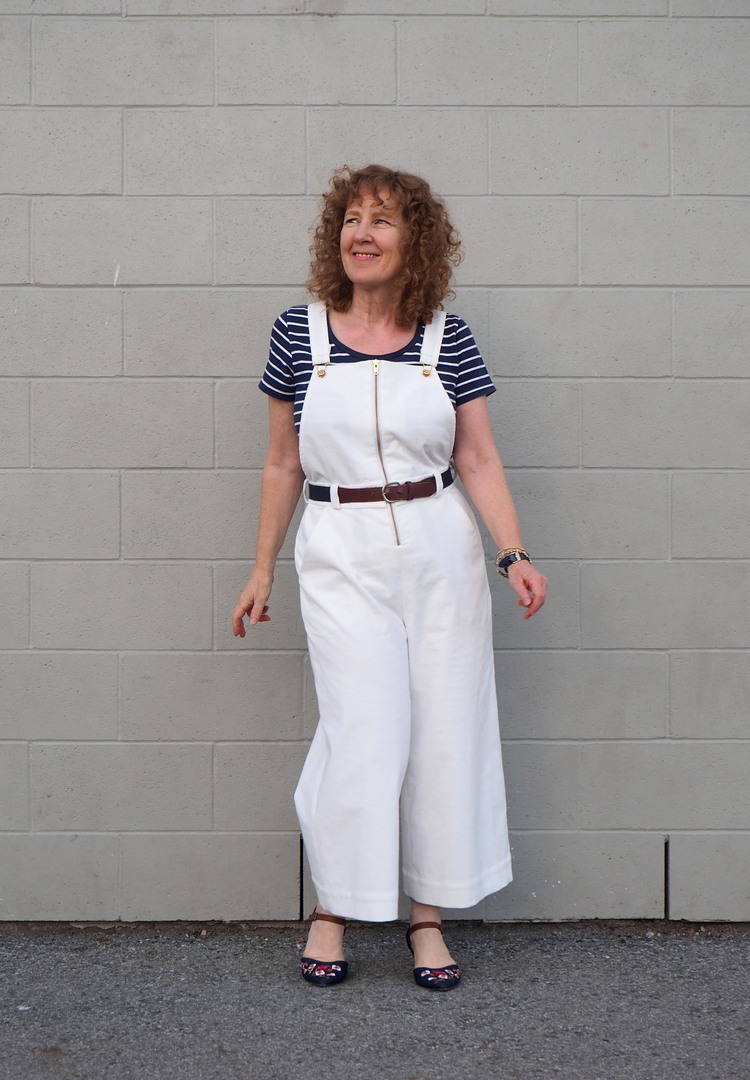 I made two design tweaks to the original pattern. First…for practicality…belt loops. I've been sewing a lot of fitted pants over the past year and, much to my frustration, my waist measurement has been like a yo-yo. Up. Down. I wanted to be sure my Jenny's would be wearable every day so I made them the tiniest bit too big at the waistline and added the belt loops. Now…if my tummy goes a little up or down…I can still wear my pants!
Second, I switched the side lapped zipper to an exposed front zipper. I think the end result of this design feature is a slightly more grown up look. I used a few brain cells figuring it out and I made copious notes and I plan to make a second pair. Would you be interested in a blog post with photos and details?
My overalls have gold accents: the exposed zipper and buckles. I also made a simple self-fabric tie belt.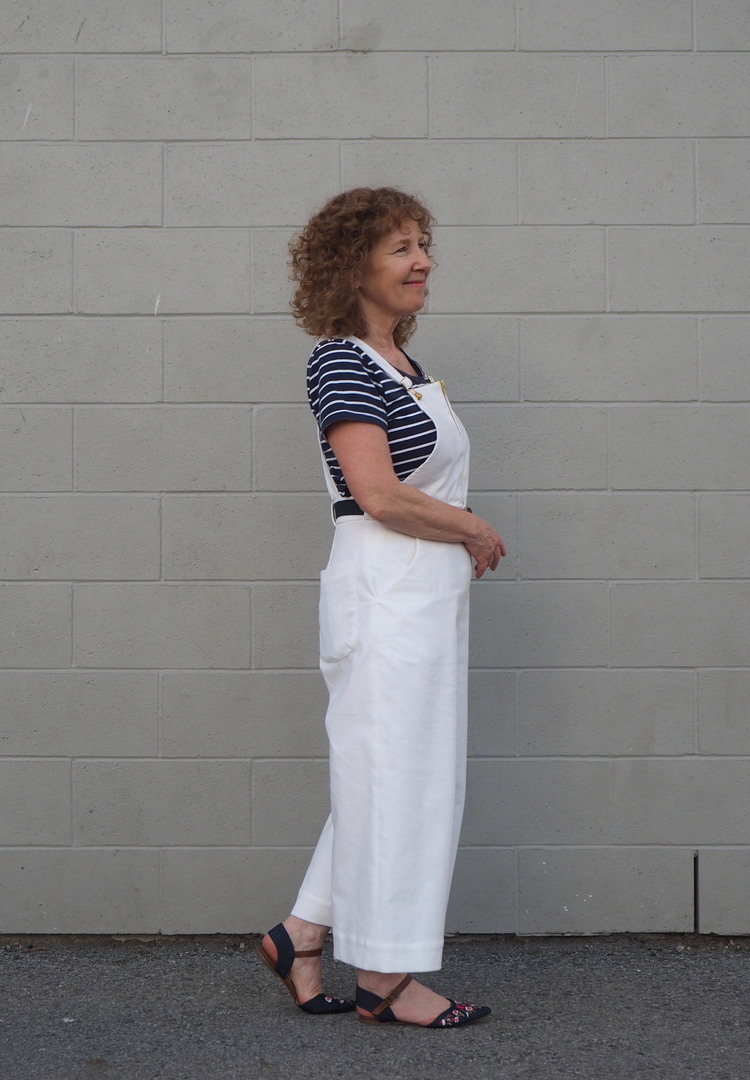 Both the Jenny Overalls and the Jenny Trousers are drafted to have a high waist and ease through the hips. The legs are wide. I've made the cropped version, but there is also a full length option as well as a shorts option.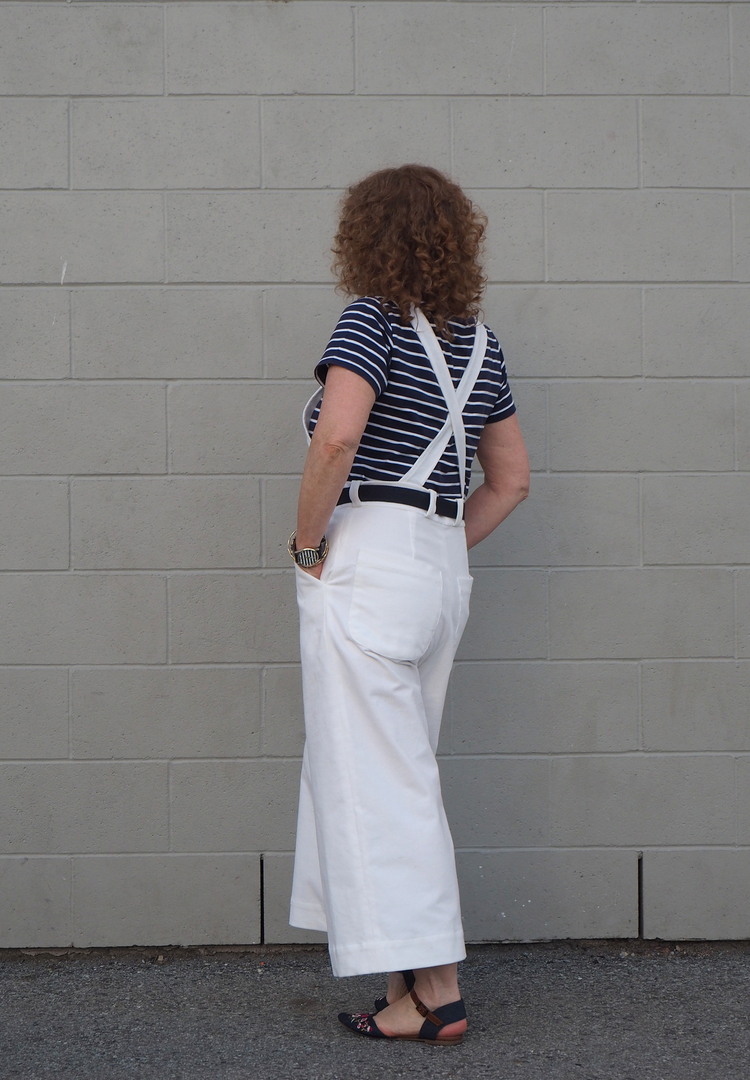 The Jenny Overalls have roomy front slant pockets and extra roomy back patch pockets. Ermmm….let it be said that those back pockets do a stellar job of containing the straps while in the ladies room. The fabric is soft fine wale corduroy from Dressew Supply.
Wearing overalls is not for every one….I get it. Hey…Heather gets it too…the Jenny Overalls pattern includes a trousers version. That being said, I can't tell you how much I love mine. I'm curious…would you wear overalls?
Wearing:
Jenny Overalls : : Closet Case Patterns
Plantain T-shirt : : Deer & Doe Patterns