Cycling the Fort to Fort Trail…
Hello and good Monday morning my friends.   Today's post is a wee departure from the norm, although normal around here has yet to be defined.  Let's see; there's no colourful clothing, there's no creative sewing or DIY; just me and the mister taking advantage of some *free* time and some fabulous summer weather. Over the past several days, we enjoyed the fair, {yes I had my mini doughnuts} we lunched on Main Street, we shopped, and we cycled a stretch of the Fort to Fort Trail in Langley, B.C.  Don't worry…I haven't packed up my sewing machine; in fact, work has begun on a new little project.  But here's the thing; I'm still getting my head around the concept of once again being the sole manager of my projects and my time, and consequently, things are moving at a slower pace than in recent weeks.  Oh, I've got oodles of ideas, but without a looming deadline…well, it's fair to say that I'm dilly-dallying between this idea and that idea..so yeah, I've got naught to show you, at least for the moment.  What I am sharing with you today, are some bits from our pleasant Sunday ride.  I'm behind the camera with just my little point and shoot, so don't expect National Geographic quality.   I do hope you enjoy seeing some beautiful BC scenery. We meandered from  
Derby Reach Regional Park
to
Fort Langley National Historic Site of Canada
.  It was gorgeous weather, and there were many of us on the trails enjoying these last heavenly days of August.  We stopped mid-point in Fort Langley Village for a late lunch, nibbled a few blackberries along the way, and said hello to too many dogs to count. 
Cycling on the Fort to Fort Trail
Connecting People with Place is a 3 kilometre length of trail within Derby Reach Regional Park.  Along the route are six art installations, of which I've photographed two favourites.  I love the mother cow with her calf.  The trail traverses active farmland. 
Okay, you're going to have to trust me on the plow.  Next time I promise to include it in the photograph.  And no funny comments about my bowl helmet.  It's very retro, don't ya think?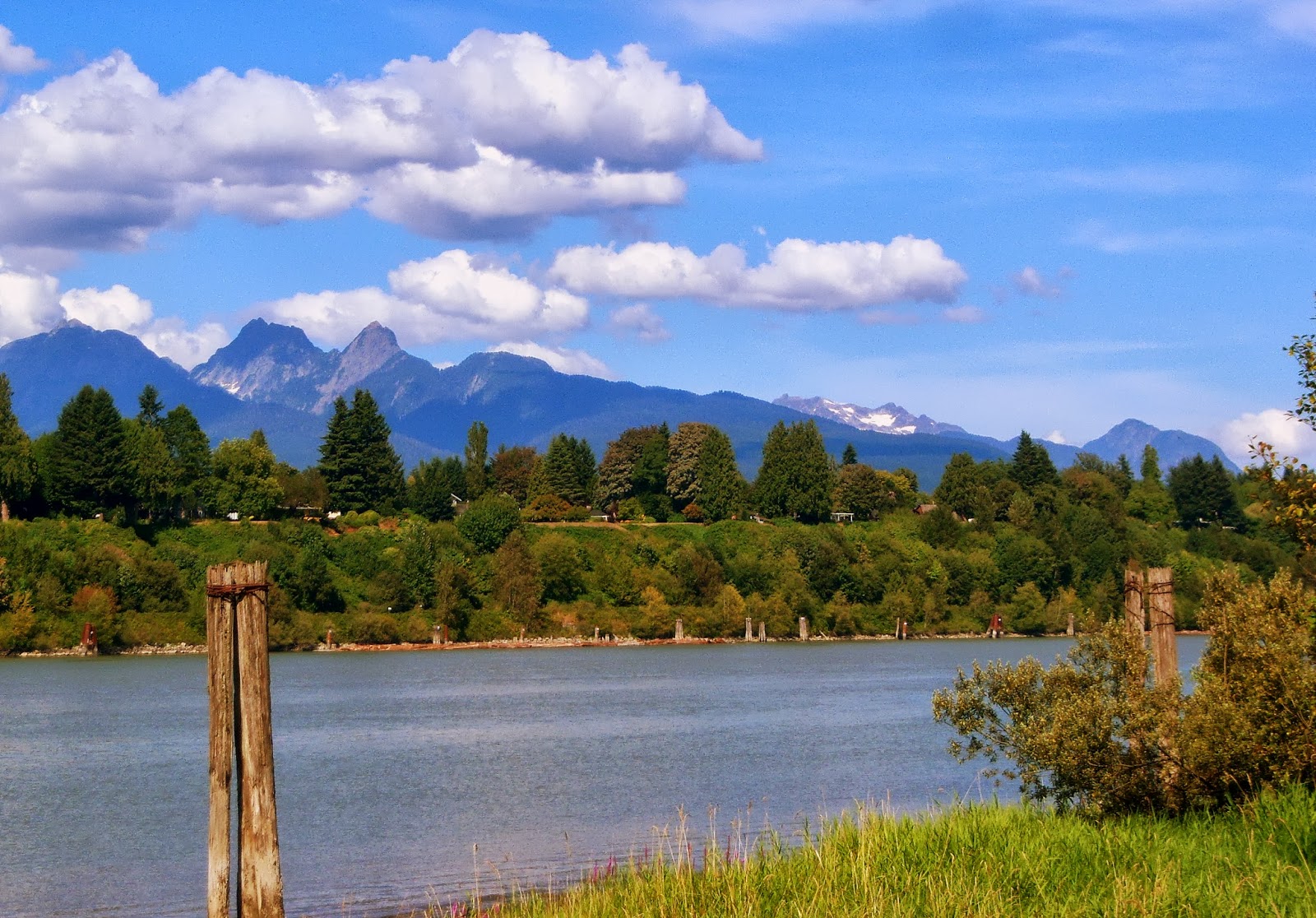 Looking north across the Fraser River towards Maple Ridge.  
The air was redolent with the scent of blackberries.
The Bedford Channel
The Bedford Channel is a narrow protected channel of The Fraser River.  Don't be deceived by the complacency of this scene however.  
The Fraser River
 is the longest river in B.C., 1,375km to be precise,  and having grown up near it's banks, I am well aware of it's powerful undertow.
Thanks for hanging out with me for a few minutes today!  It's a new week, soon to be a new month, and not just any month. For me, I've never outgrown the new year feeling of September.  Do you feel it too?