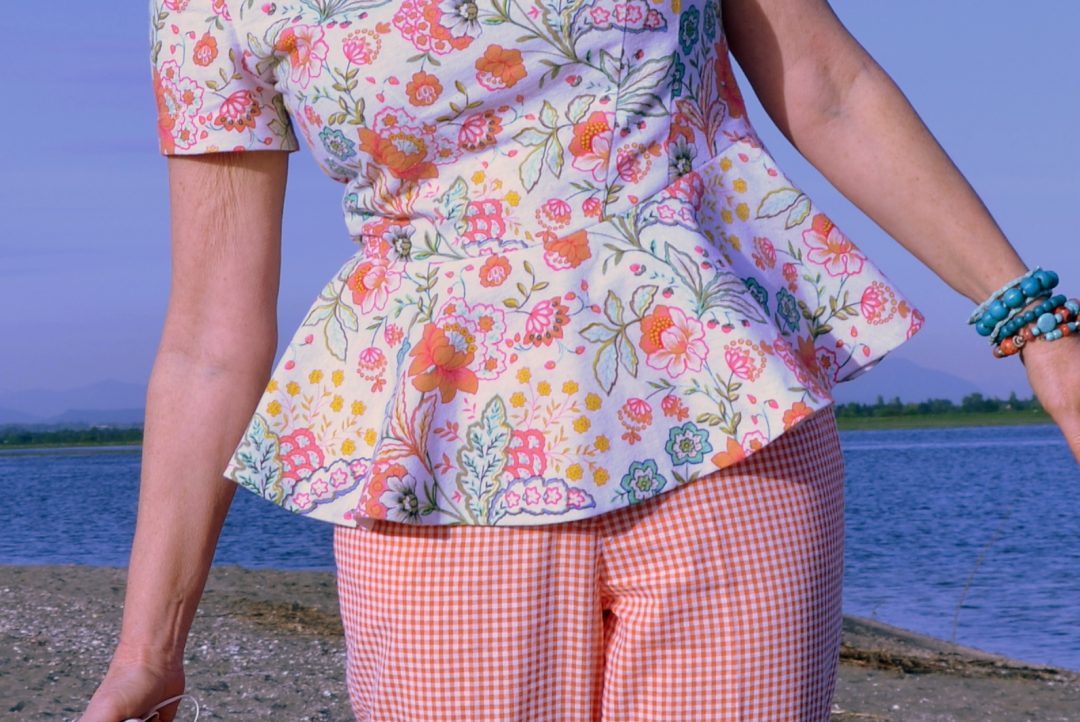 CORAL FLORAL WITH GINGHAM…
Who doesn't love floral with a side of gingham!
I think wardrobe separates are a great opportunity for some fun pattern mixing. You can dial up or tone down according to your comfort level, no long term commitment required.
For the peplum top, I used the bodice from
Simplicity 2444
, and added a peplum following these instructions:
Burda Style: How To Draft A Peplum
. A big thank you to Hana of
Velvet Ribbon
for sharing the Burda link on her blog post
here
! Pants are Cynthia Rowley for Simplicity 1783. I
think
I can finally say I have a pants pattern that's right for me. Yes, I made a few alterations…but I both documented and pattern drafted all the tweaks. I do
NOT
like the front patch pockets on the original pattern, so I switched those to….errrr…
normal pockets
…my bad, but I can't seem to find the correct words to describe the pockets I made. Can we blame it on age? Somebody, please somebody identify my pocket design! The other, probably obvious, tweak was to skinny up, or slim down, the leg seams, both inseam and side seam.
I'm always, always, finding inspiration from your blogs, thank you! Glenda of So What To Twenty, blogged about peplum tops here and here.
Thanks Glenda, both for the inspiration, and for the video link! Readers,
consider this fair warning: Her second link
will
get you dancing!
Bracelet stack…me-made…simple beaded bracelets, and a narrow, wire-wrapped, beaded cuff.
And that's all she wrote. today. The weather is lovely, and all this floral has me yearning for my own bit of outdoor paradise. There's no pretending in this post…no jacket, no problem!
Peplum Top :: Simplicity 2444
Metallic Pumps :: Payless
Bracelets/Earrings :: Me-Made
Won't you please follow me on…