Mile End Sweatshirt : : Closet Core Patterns : : Montreal Lounge Collection
Hiya everybody!
This week Closet Core Patterns released their most recent patterns…the Montreal Lounge Collection. While both the Mile End Sweatshirt and the Plateau Joggers (not shown) are familiar silhouettes, each one has the fresh and elevated look that I've come to anticipate from CCP. I think one of CCP's core strengths is giving us wardrobe building garments that are modern, wearable, and customizable to one's individual tastes.
I participated in the pattern testing for the sweatshirt (thank you CCP for the opportunity) but not the joggers, so I'll be giving feedback on half the collection. As per usual, there were alterations to the pattern post testing of which I will make note of. (Sleeves, Imma lookin' at you.)
The sweatshirt comes in three views…the classic view A that I sewed, a more playful version that has a front tie in the waistband, and a crossover V-neck hoodie with kangaroo pocket. The link is here for the pattern and also photos, specs and details.
I made my top back in December and it's had a ton of wear since then….and not just for lounging. With its thoughtful design lines, this sweatshirt is getting way more mileage than the average off the rack sweatshirt.
In the close-up view above, you can see that the side seams are angled slightly toward the front of the body. This design line is continued on the waistband. The sleeves are two part and also (not visible) have two small darts at the inside front elbow.
While we're on the subject of sleeves….mine ended up too long for my comfort even though I shortened the pattern prior to sewing. The final version of the Mile End Sweatshirt sleeve has been drafted a full 1.5″ shorter than my test pattern piece. The angle of the shoulder seam has also been adjusted for a better overall fit.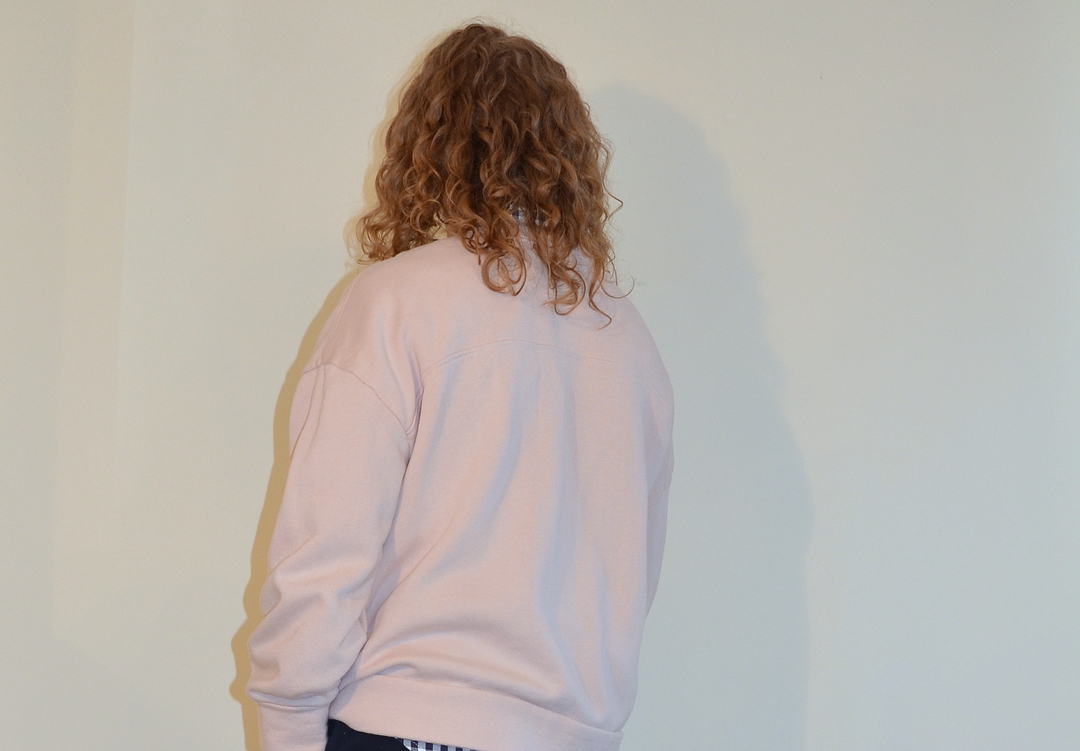 The back has an unlined yoke…an unexpected but welcomed design feature on a sweatshirt. The yoke, shoulder, sleeves and side seams are topstitched.
With most Closet Core Patterns I make an FBA, but with the generous ease in the sweatshirt, I opted to keep it simple. No fitting adjustments made other than shortening the sleeves. While I'm happy with the fit overall, I plan to make my next one using the final published version of the pattern.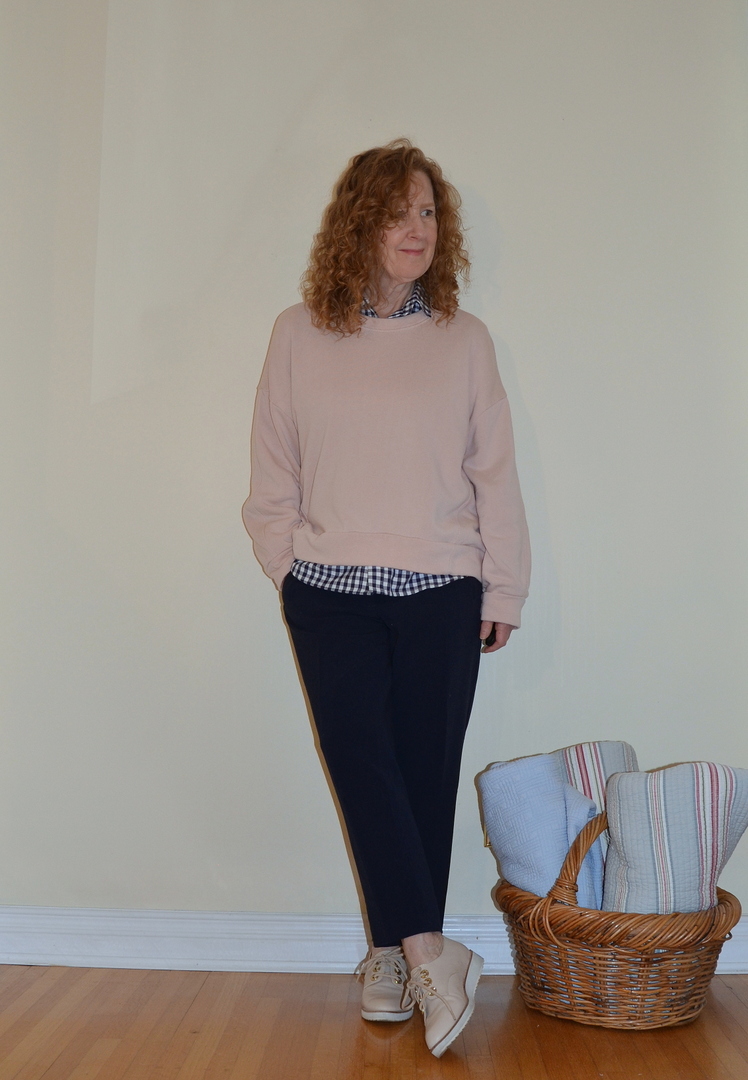 In my photos I am wearing my sweatshirt with CCP Sasha Trousers and a Grainline Archer Button Up Shirt. My fabric is a dreamy, super soft rayon/bamboo fleece from Spool of Thread fabrics. I've linked to the cream colourway as the soft pink Sweet Pea is out of stock. Be sure and give your fabric a solid pre-wash as there will be some shrinkage.
Mile End Sweatshirt Revisions (0-20)
Shortened overall length by 3/4″

Shortened sleeve by 1.5″

Adjusted angle of shoulder seam and removed some length

Removed excess at back armhole on back yoke and back
Wearing : :
Mile End Sweatshirt : : Closet Core Patterns
Sasha Trousers  : :  Closet Core Patterns Also seen here
Archer Button Up Shirt : : Grainline Studio