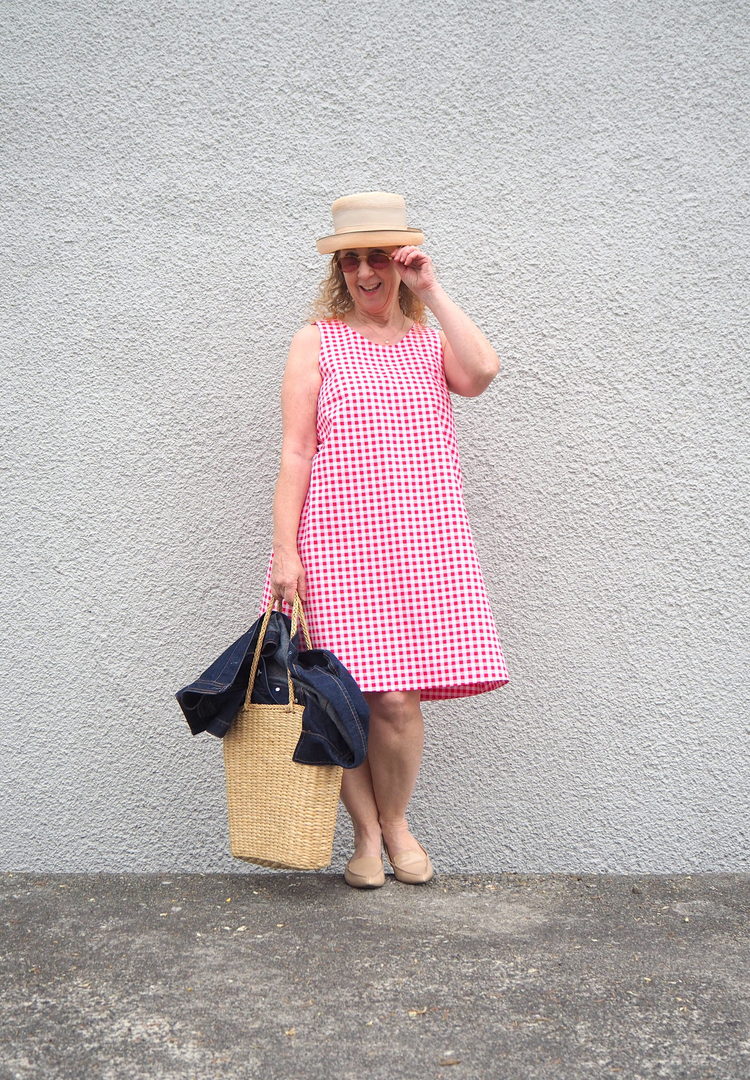 1, 2, 3 Testing : : The Ashton Top : : A Helen's Closet Pattern
Hey Every buddy.
This could be a technically challenging post. My WordPress updated to a newer, supposedly better, version of its former self and as a result I have some new tricks to learn. I remember years ago, starting the blog, and feeling all fired up to learn me some mad computer skillz. While I'm not completely grumpy about the updates…I admit…I did grumble under my breath about 'Why do things that were working perfectly fine have to change (blah, blah, blah).' And….ermmmm…my grumble turned out to be loud enough for my techie husband to not only hear me, but incited him to stand up for all the wizards that make it possible for me to have a blog at all. And he's right…this ability to blog and share is magic and I really do appreciate that I have this platform available to me.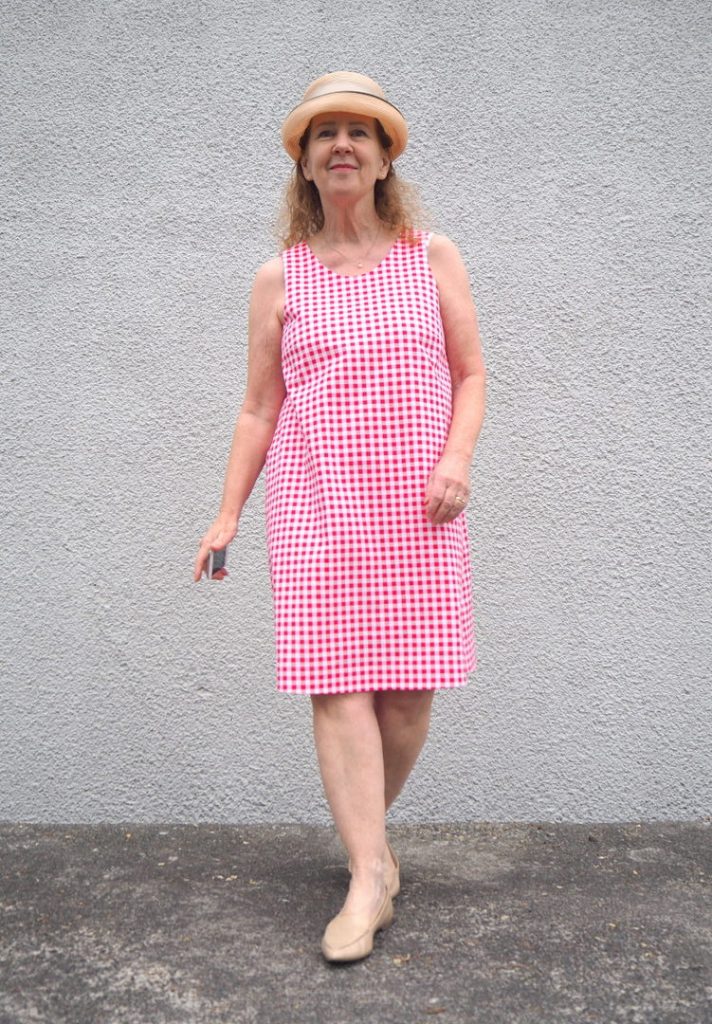 I recently did some pattern testing for Helen's Closet; the Ashton Top, drafted in two lengths, cropped and hip length. I know, I know…you're seeing a dress…I couldn't help myself. After making the test garment as drafted, I literally could not wait to sew the pattern up as a dress. And yes, I promise to show a photo of the top at the bottom of the post.
The Ashton Top is categorized as an advanced beginner level. While I agree…I opted for this rating in the feedback form…the instructions are so thorough and the accompanying illustrations are so clear that I really think, regardless of your sewing skills, you can do this.
The pattern is available in sizes 0 – 22 in a B cup, and additionally in sizes 12 – 30 in a D cup. Based on my measurements, I am a size 8, C cup which led me to do a 1″ full bust adjustment on my test top. When I made my dress, however, I opted to sew a straight size 8, no FBA, and I'm totally happy with the fit.
The Ashton Top comes with instructions for either a bias binding finish or an all in one facing…the all in one facing is genius…just sayin'.
The design is a deceptively simple tank silhouette that provides good coverage. There are bust darts that give the garment shape and I find the cut of the armhole and neckline flattering. I do have some peak-a-boo bra strap showing, but I'm okay with that.
The hem is faced with separate pattern pieces, a design feature that I implemented in my dress version.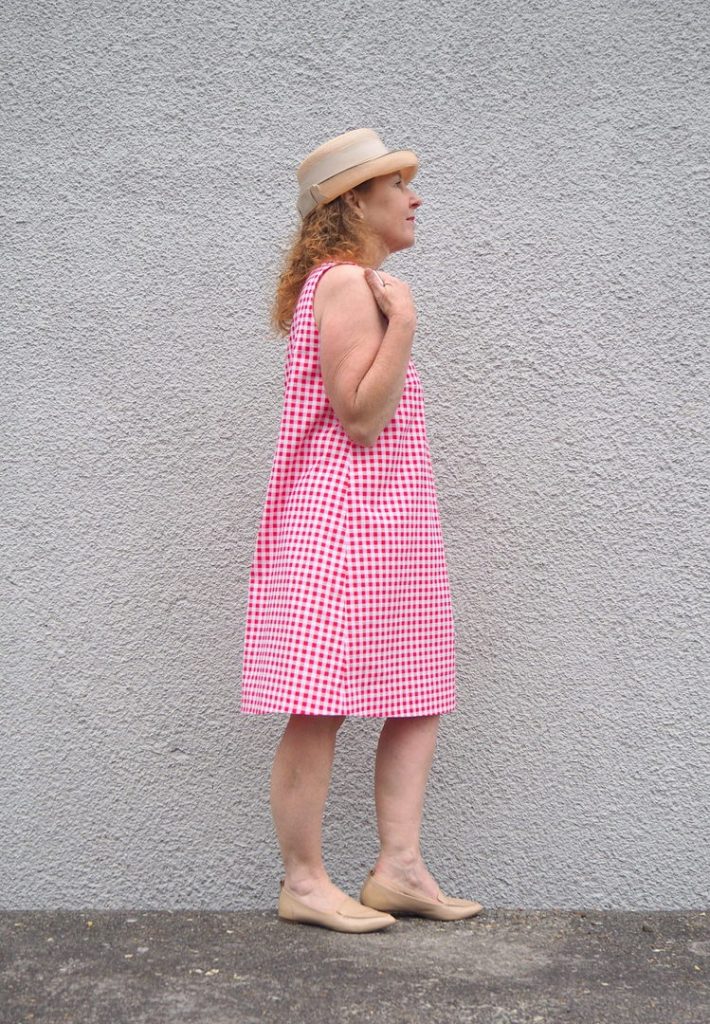 I've had this fabric in my stash for what…years? It's a Value Village find, cotton with a heft that falls somewhere between light weight and mid weight. It's pink and it's gingham, (printed not woven which can be a challenge when it comes to print matching). I was pleasantly surprised to see my side seams lining up as well as they are.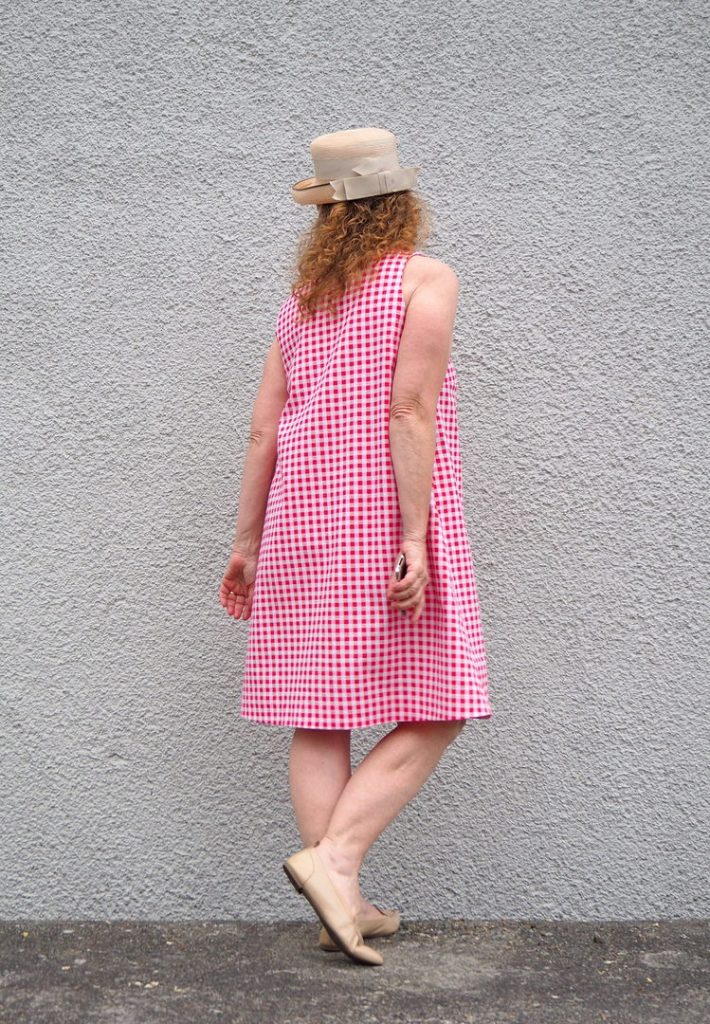 The back view is very basic. Okay…the front view is also very basic, LOL, but I include these views for those of you that are thinking of making the pattern.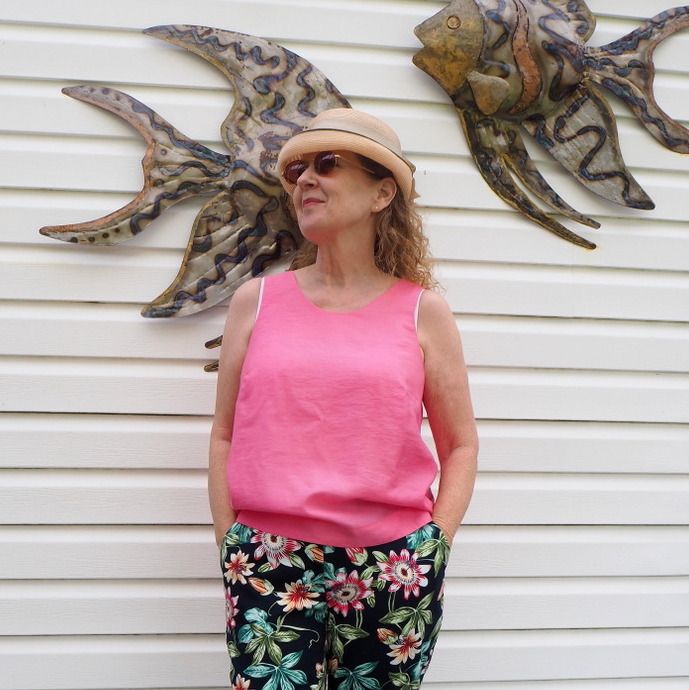 As promised, a photo of my Ashton Top, hip length version. This I made with a 1″ FBA; it's ever so slightly roomier than my dress. The white you see? Those are my bra straps.
I extended the hip length version of the pattern 12″ in length (I'm 5'2″). I anticipate that Helen will have a blog post with an Ashton Dress hack in the near future!
I hope my review is helpful to you if you are considering purchasing the pattern. If you have any questions, please ask away.
In the meantime, I'll be powering out another Ashton Dress, whittling down my fabric stash in the best possible way.
Wearing and LINKS: