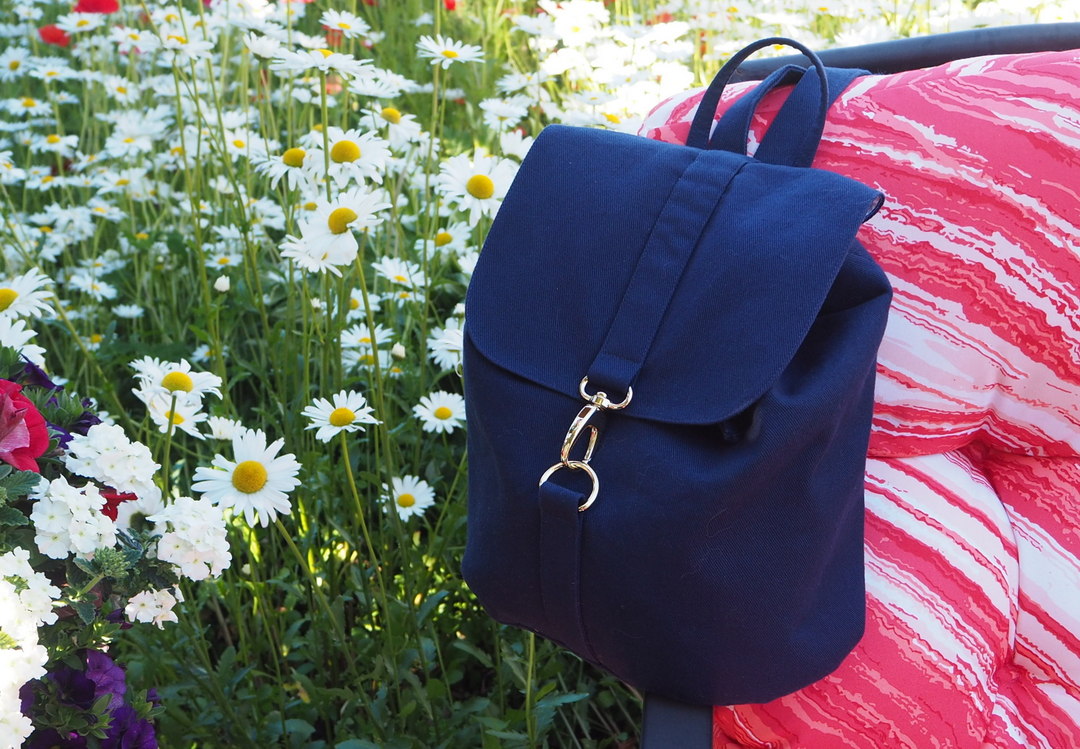 My London Backpack : : LBG Studio : : #makenine2019
I've been slowly chipping away at my #2019makenine grid…and the experience is proving to be quite a different ride than last year.

Apparently I'm less than committed to some of the choices I've made.

Which is good.

Good? you ask…

Yes. You see for me the challenge is about more than ticking off achievements. Sewing from my fabric stash remains the basis for my choices…but make nine has me digging deeper. I'm consciously asking, 'Will I wear it (or if an accessory, Will I use it)? Will I love it? And…will my make have longevity?'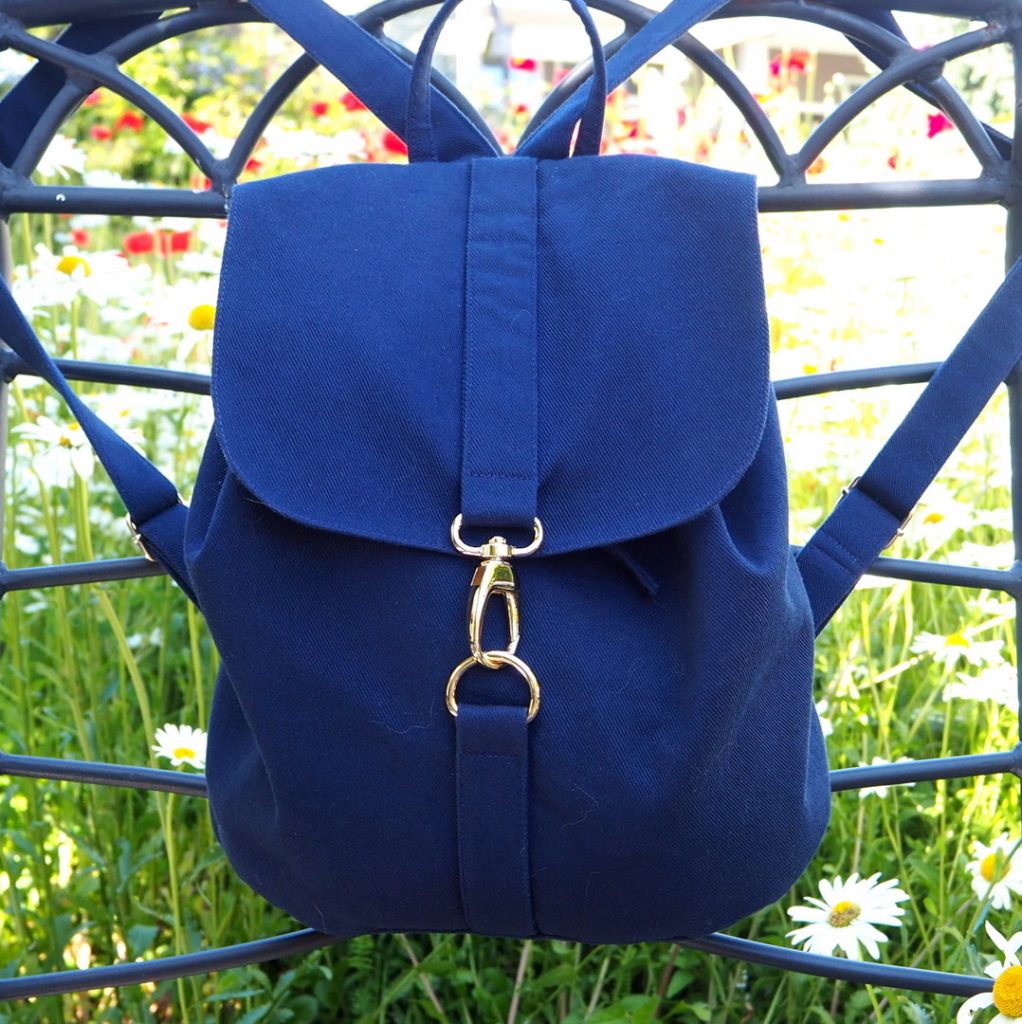 In my make nine grid I had paired (with some hesitancy) the London Backpack by LBG Studio with a lovely blue and white fabric. Then I actually wrote the words….'What I really want is a backpack  that looks rather like a rucksack…maybe leather or suede… definitely a solid, neutral fabric'.

I didn't have the leather or suede, but I did have this navy hued cotton twill…in other words; a solid, neutral fabric….which was otherwise assigned to be Burnside Bibs.

I'm happy I was hesitant. It caused me to think more carefully. And now….this backpack….I love. I use it constantly. It may not be leather or suede, but it's brilliant just the same.
London Backpack : : LBG Studio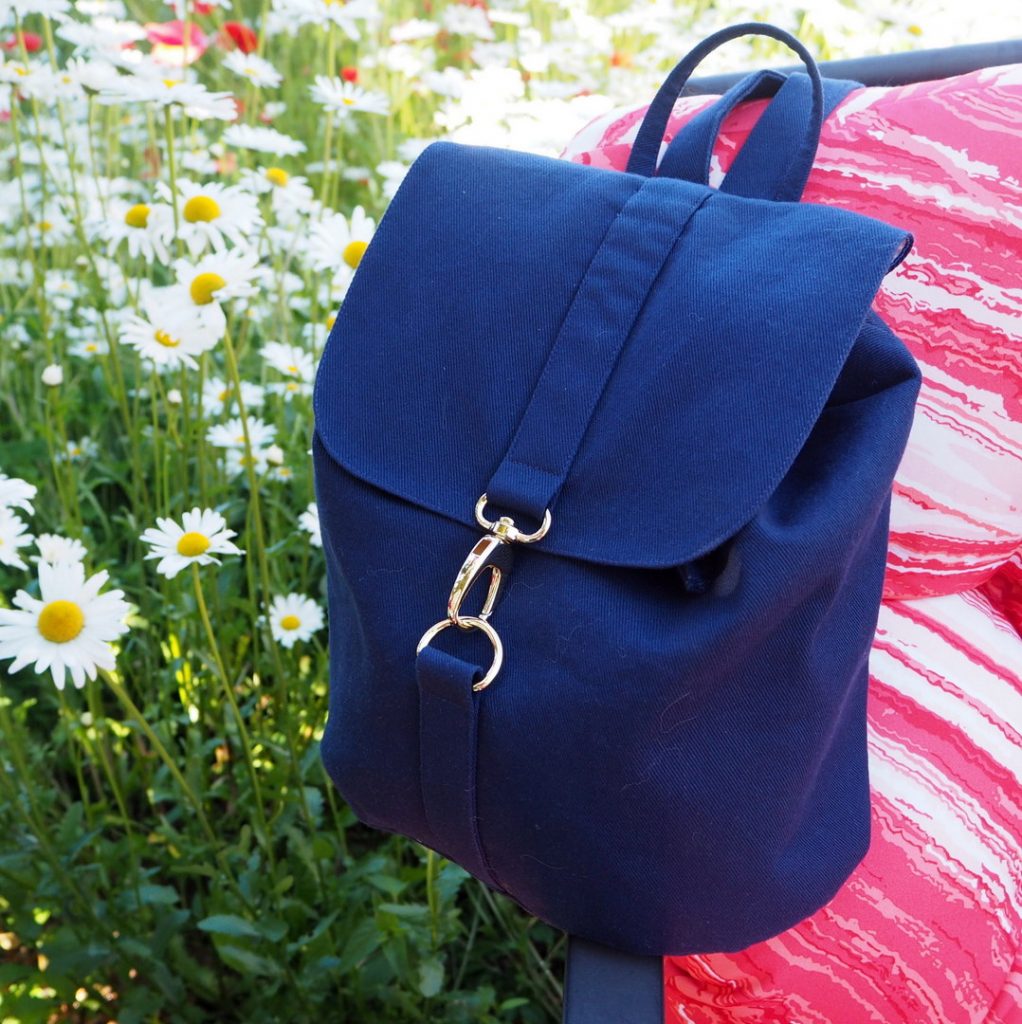 All righty…let's get to some pattern details.

The London Backpack isn't huge. Finished measurements are:

Height: 12 1/2″ (32cm)
Width: 13″ (33cm)
Depth: 5″ (13cm)

For me, it functions perfectly as a purse, yet I can carry books or small purchases effortlessly.

This bag comes as a PDF with actual pattern pieces. I found the instructions detailed and easy to follow. Suggested fabrics, pattern layouts, sewing terminology…it's all there.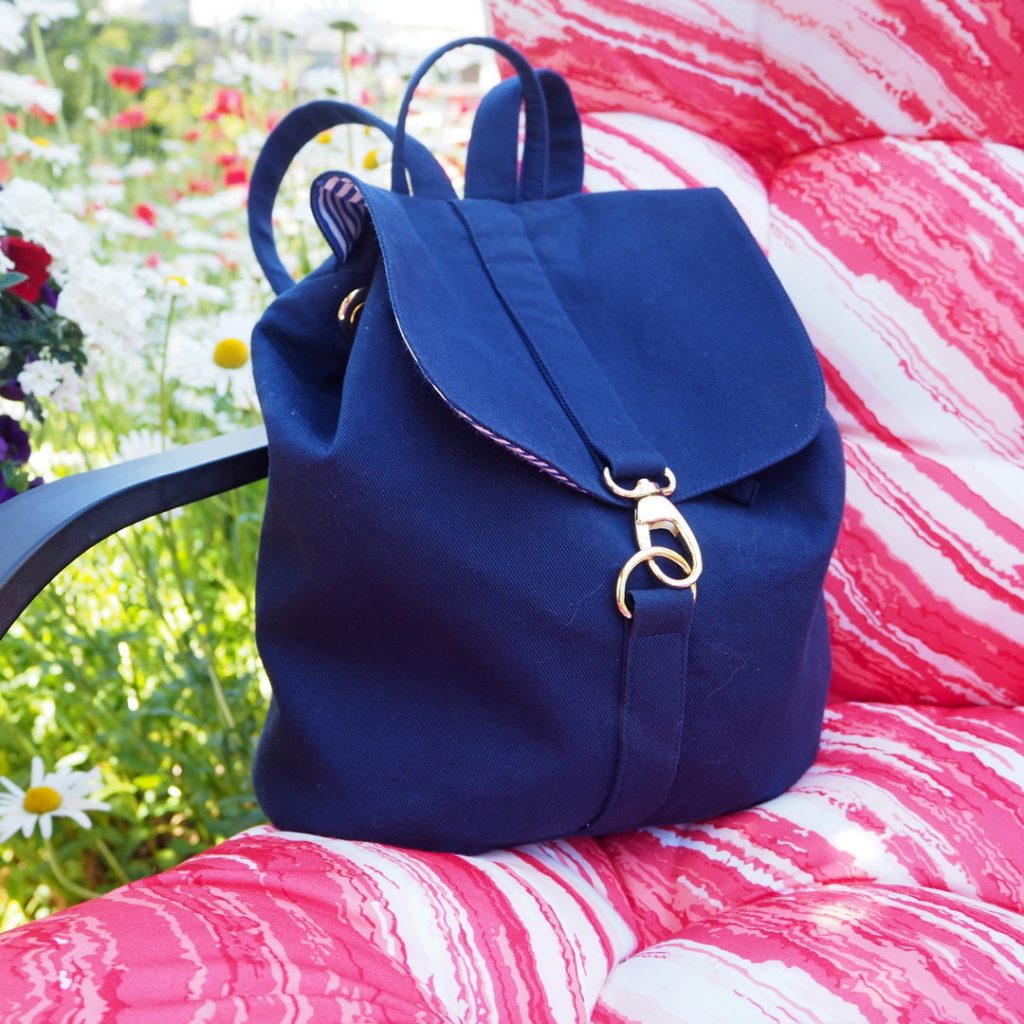 Of note….The London is drafted for the flap to have a magnetic closure…the toggle and D Ring closure is my own addition. No other changes were made to the pattern.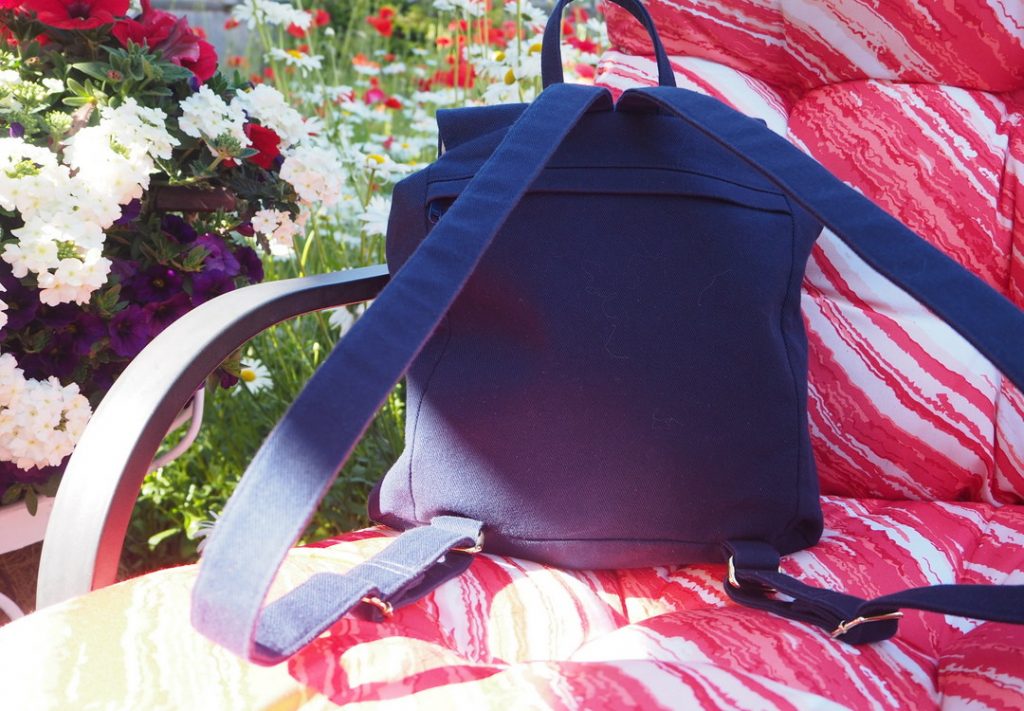 Straps are made from self fabric and are adjustable. The pack also has a hanging loop, or handle, at the top.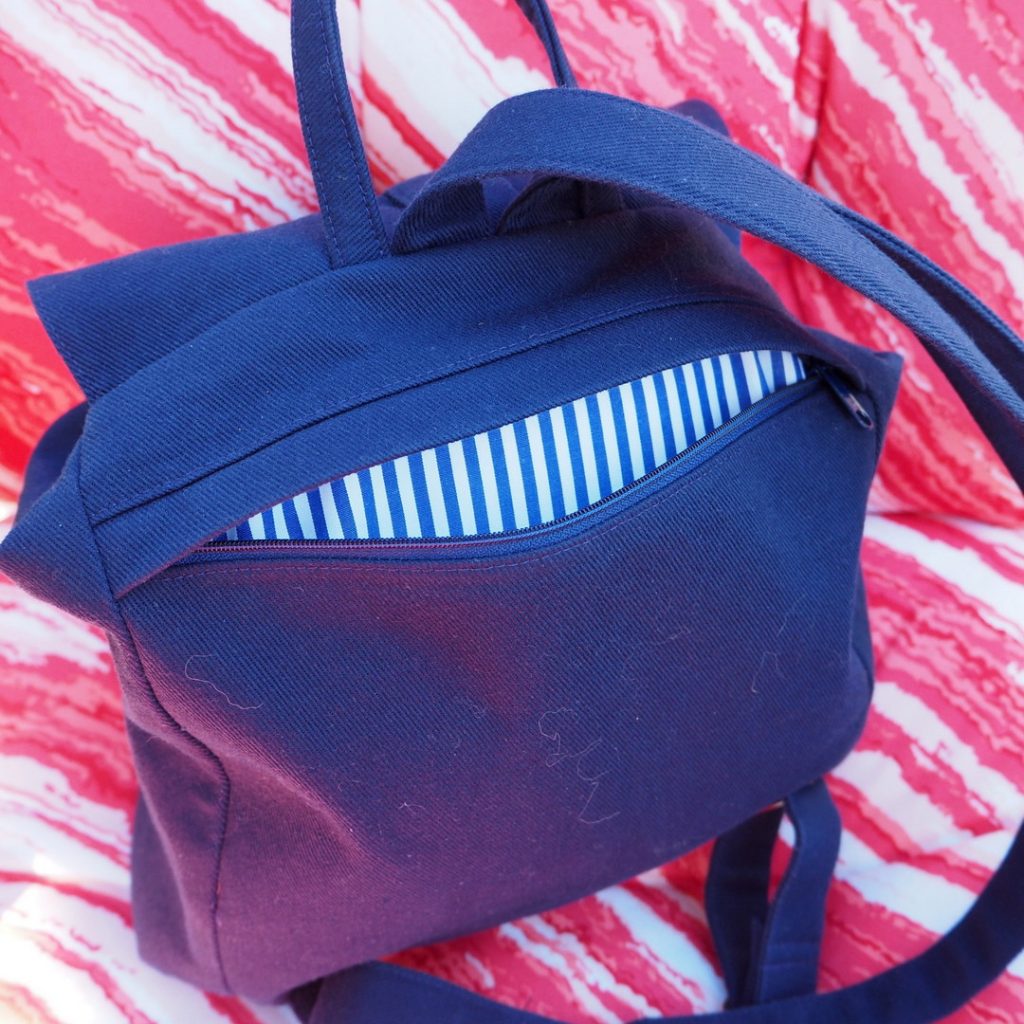 There is a 'hidden' outside pocket. I love the thoughtful addition of a zipper cover.

Quilting cotton or similar weight fabric with a secondary canvas interlining is suggested. Optionally one could…and I did…..use a heavier outer fabric and omit the interlining altogether.
The London has both an exterior flap and a drawstring closure. A self-fabric drawstring is threaded through six eyelets and a casing in the back lining.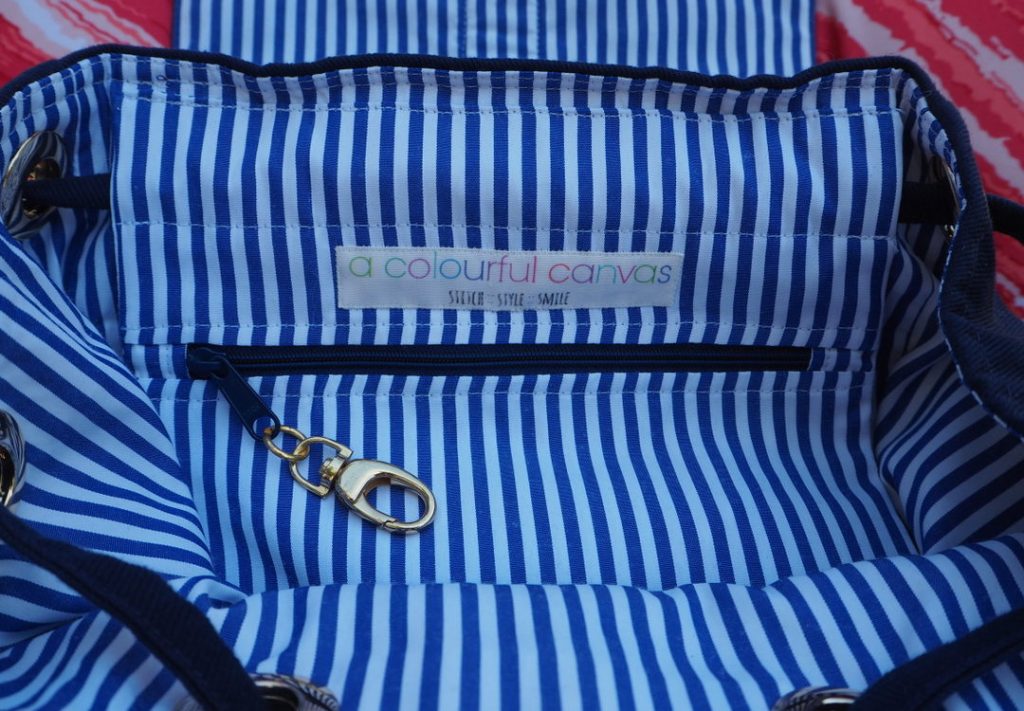 The backpack is fully lined and includes instructions for a zippered interior pocket.
Honestly…there isn't one thing on this backpack that I would change.
I believe that successful bag making relies not only on a well drafted pattern, but also on quality hardware. My sources are as follows:
Sallie Tomato : : Gold Grommets and Gold Slider Buckles
Emmaline Bags : : Rectangular Rings, Swivel Hooks, and D Rings
LBG Studio : : London Backpack Pattern
I didn't venture far for photographs. I'm in my back garden. Standing out there pondering however do I get my links in my wordpress.org blog to show in a contrast colour? Do any of you wonderful bloggers have the answer?