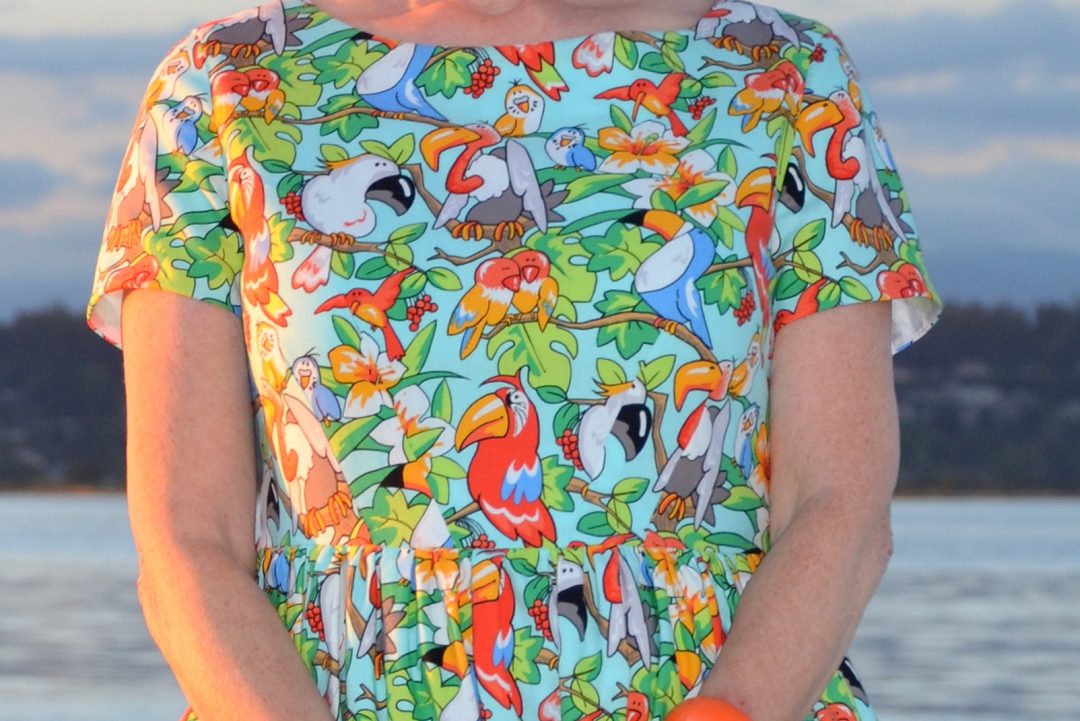 BIRDS OF A FEATHER DRESS | SIMPLICITY 2444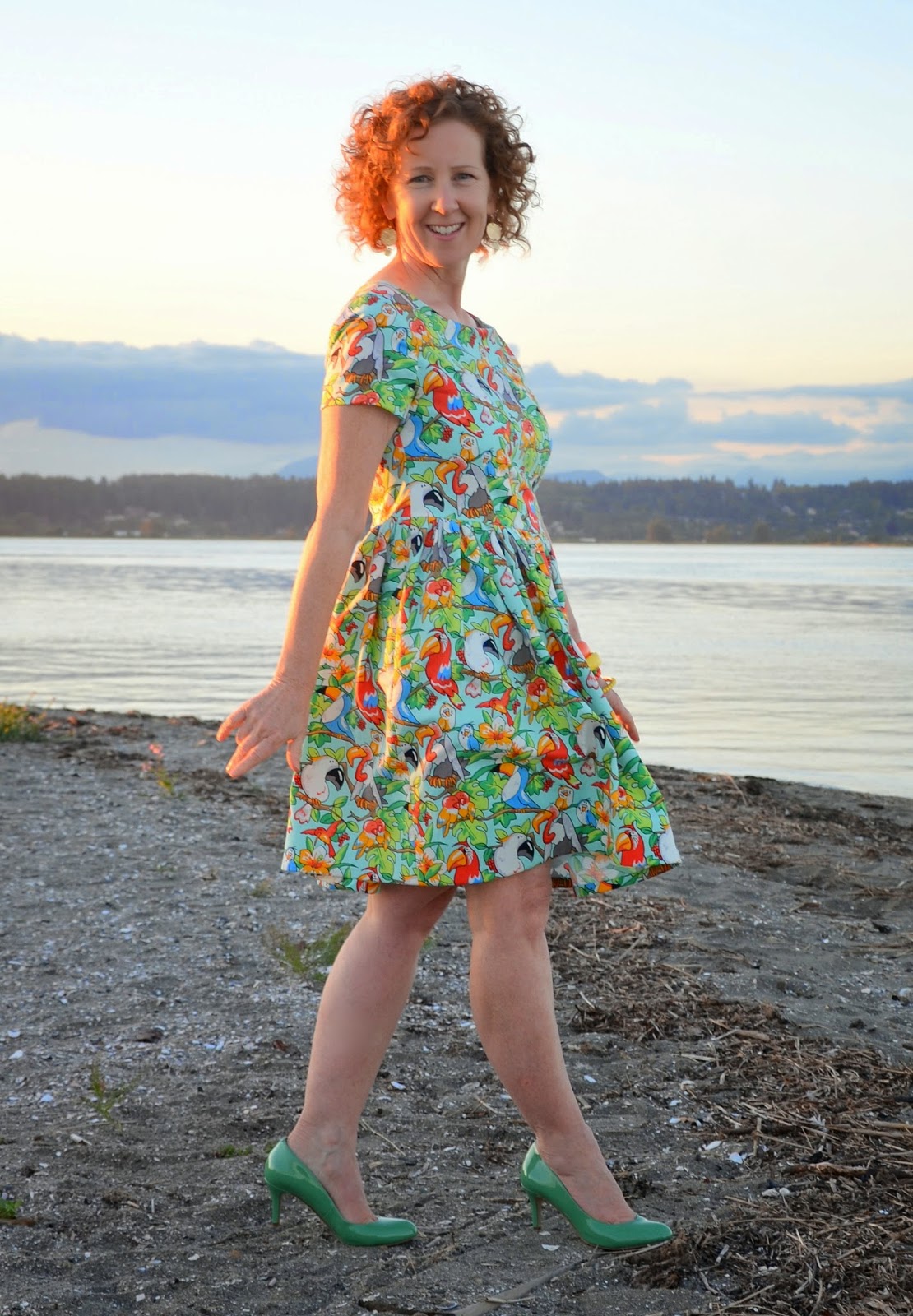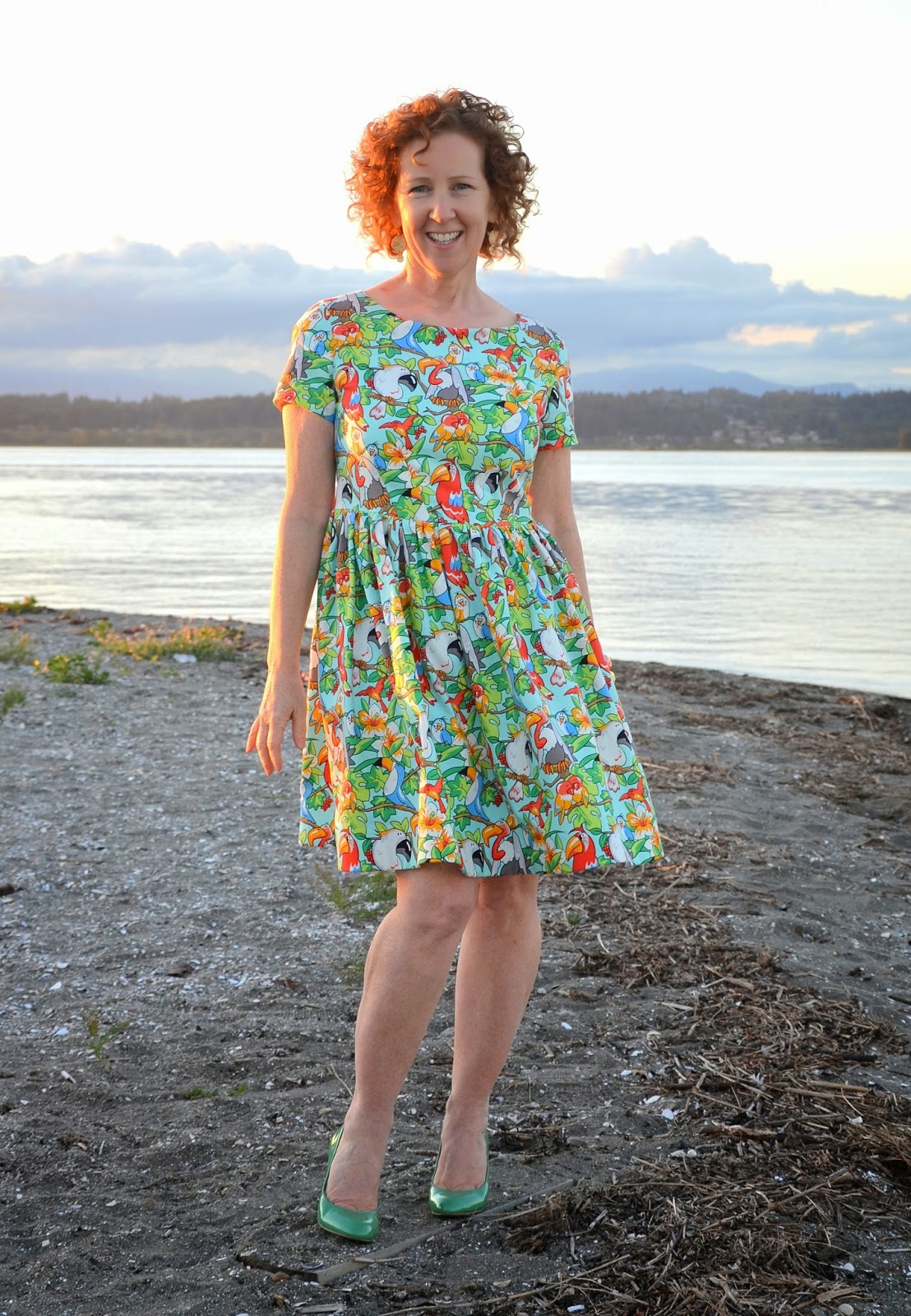 I've got an old birdhouse in the garden. I've had it for years… it was one of those things I picked up second hand. I sometimes nose around garage sales and thrift stores and buy questionable goods and call them garden art. When we moved into our current home, my birdhouse sat forlornly on the back stairs. For years. Last fall, during my autumn yard clean-up, I decided it was time to let it go…but. I couldn't. so. I didn't. I hung it in the wisteria vine and promised to deal with it come spring. Well, spring blossomed, and with it came a lovely pair of chickadees. And yes! They chose that old and tired birdhouse to be their honeymoon cottage. I was surprised, delighted, and thoroughly conflicted about the fact that my little bird hotel (they don't stay long) was smack dab in the middle of cat country. I have two cats. Two cats that go outside with moderate supervision. We have a fenced in garden, and my cats are, for the most part, disinclined to jump over, crawl through, or otherwise attempt to explore beyond their confines. And why would they? Especially given the fact that their provider of all things earthly has now generously provided front row, interactive, live entertainment. Sigh. I assigned myself to guard duty…lounging on a nearby chaise…with a book…and a bevy…I know, I know, it was a tough gig, but someone had to do it. I also set up a little perimeter fence underneath the birdhouse in an effort to give the young parents at least a little privacy. I imagine it would be disconcerting having a keen eyed cat sitting directly below one's doorstep 24/7. Not that my cats are out there 24/7…but I do like to dramatize my boring stories at least a little. And this story really has no drama. Which is actually very good. Because cats and birds and drama in the same story has a sinister sound to it. Mama and Papa bird nested, and then proceeded to feed and nurture those chattering baby chickadees incessantly for a couple of weeks. Then…BAM…they literally flew the coop. The nest, once a very busy hub, was suddenly very still. The very next morning the young birds were spotted sitting in our bamboo patch, fluffier versions of their parents. It was as if they wanted us to know they had their wings and all was well.
So yes, I have been a bit bird obsessed lately. If you're a blogger, and you've posted anything bird patterned recently, you probably knew this. As much as one can swoon in a comment, I have been swooning. Most, errr let's make that all, of your bird patterns are pretty…pretty birds, pretty colours. I adore them. Truly. I do. With that being said, this cartoonish print squawked hello the minute I saw it. I tried. I tried really, really hard to ignore it, but even when I was at the far end of the store, outta sight, I could hear it calling me. And. Sometimes you just have to give in. Just like my I'm a Bird in Paradise Dress; this dress, my Birds of a Feather Dress, Simplicity 2444, makes me smile. Big. It's whimsical, it's colourful, and it's me. Not too much to say about the construction. The pattern is identical to my previous bird dress, with one exception. I inserted a centered zipper instead of an invisible one. Why? I wanted a matching turquoise zipper, that's all. sez me.
Okay, real quick now and then I'll let ya go…I got a crazy case of hives last week, and I've been beyond itchy. I think it might be new laundry detergent. I usually buy Tide Free and Gentle powder, but I bought the liquid TF&G. The grown-up me knows not to scratch, but, seriously, look at the dress I just sewed. I think I need to wear oven mitts secured to my wrists with duct tape. Although not entirely gone, they did resolve well enough to allow me to thoroughly enjoy seeing Spamalot this weekend…it's a hilariously funny musical comedy spawned from Monty Python and The Holy Grail. Oh My Goodness! We did laugh out loud a lot! I've got a new striped, yes STRIPED, sewing project ready to go! I'm planning to sew a summer sundress, and I'm still on the search for the perfect palazzo pants fabric. Weather's been…meh…and…the wisteria vine seems to be dying. We can't understand it. It had a great show of blooms, and then, just, nothing…not much leaf development, and what's there looks limp and lifeless. I am trying look on the bright side of life ala Spamalot, but things are not looking that bright in that corner of the garden right now.
Happy Canada Day to my Canadian Peeps!
And an early Happy 4th of July to my American Cousins!
Dress :: Me-Made Simplicity 2444
Shoes :: Nine West
Linking up with The Sewcialists for Oonapalooza